Hollywood is in a state of flux. 2014 was the worst year the US box office in almost two decades.
One way for the big studios to make up for some of their woes at the box office is through licensing their intellectual property. It has been estimated that sales of merchandise featuring Disney, Marvel, Pixar, and Star Wars characters exceeded $40 billion in 2013.
That's a lot of money, some of which flows back to the studios in licensing fees, and to toy companies such as Hasbro, Mattel and, of course, Lego. But if you want to sell toys, or make movies that sell toys, you don't really need to understand kids. You need to understand their parents, who over the next few years, will increasingly be millennials (the group aged 18 to 34).
The investment house Piper Jaffray is attempting to do just that. In its "Proprietary Survey of Moms" it  polled 355 mothers in the US in an attempt to understand kids' toys and media consumption habits. The following paragraph from their report stood out:
As millennials age into parenthood, they are bringing with them a lifetime of experiences tied to digital and mobile technology. Their children are being born into households that are hyper connected, with on demand content available with the "swipe" of a finger and a mobile device. In addition, families are on the go and parents are relying on content to bridge physical play experiences when toys are not present.
So the rise of the millennial age cohort (which is expected to overtake baby boomers in size this year, and in spending soon after) is going to affect Hollywood and the toy industry just like everything else. The good news is toys and the shows or movies they come from seem to complement each other even better in a digital age.
The analysts estimate that between 25% and 50% of toy purchases in the US now have a connection to content. And 90% of survey respondents said they purchased a toy last year linked to one of four big move franchises (Frozen, Lego, Marvel, and Transformers).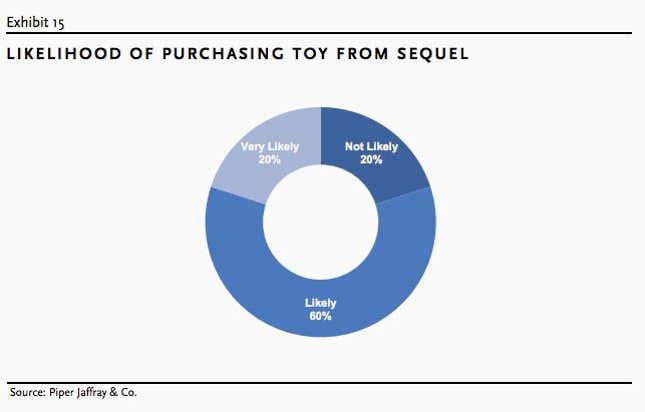 Those toys have quite a short shelf life (typically three months) but, encouragingly for toy companies, respondents indicated that they would be likely to purchase another toy based on a sequel. And we know how addicted Hollywood is to those.