What is the Royal Bank of Scotland going to do with all that space on the gargantuan trading floor that once served as the centerpiece of its American headquarters?
It wasn't so long ago that the British bank's global ambitions and hefty trading revenues pushed it to build the $500 million glass-and-steel building. Even a global recession failed to dissuade it from building an office replete with a gym offering employee massages and a trading floor the size of an airport hangar.
"It's been a source of pride and kind of a rallying cry," Robert McKillip, RBS' head of corporate and institutional banking for the Americas told the New York Times in 2010. "We've been through a lot."
With this week's announcement that RBS has given up on running a standalone investment bank, pulling out of 25 more countries, and gutting 1,000 employees from its Stamford, Connecticut headquarters, it appears what the Times called RBS' "shining star" has faded.  It also reported its seventh consecutive annual loss today, bringing the bank's cumulative losses since 2008 to a whopping £50 billion. RBS didn't respond to a request for comment.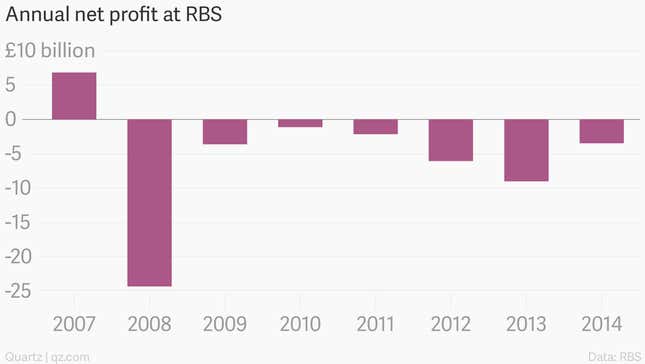 The bank is hardly alone. UBS, which garnered millions of lofty tax breaks to open what Guinness World Records once recognized as the world's largest trading floor, is confronting its own ghost town as the glow from their trading terminals dim, and the deep and prolonged slide of trading volume besets Wall Street banks.
The big profits the banks once made from trading what bankers refer to as FICC, fixed income, currencies and commodities, have tumbled. Increased regulatory and capital demands, government reforms, and lower customer demand has driven banks to report their lowest FICC trading revenue since the last financial crisis, according to research firm Coalition, and is now leading banks to rethink their business models.   Perhaps now it will also teach them to think twice before building such big, flashy buildings again.