Netflix already has a slew of Emmys, among other prestigious awards. Now, apparently, the streaming media giant is stalking the big prize of entertainment awards: the almighty Oscar.
According to Deadline, Netflix outbid major studios for the worldwide rights to Beasts of No Nation, an award-friendly movie starring the British actor Idris Elba, about a child soldier forced to join mercenaries in West Africa. The film is directed by Cary Fukunaga, whose masterful directing of the show True Detective won HBO an Emmy last year. Long before Netflix purchased its distribution rights, the film was receiving heaps of awards buzz.
Although Netflix's model is based on streaming, a film must be shown in theaters to qualify for the Academy Awards. The movie won't qualify if it streams before it's put in theaters, so Netflix will debut the film in select theaters on the same day that it streams the film online.
Netflix paid a mighty $12 million for the exclusive rights. With that price, the company–which generally favors small-budget movies and TV shows–could probably have made something original. It suggests, particularly because the film doesn't have the wide appeal of, say, an Adam Sandler film, that Netflix believes in its awards potential. According to Variety, which cites insiders, Netflix is indeed planning a serious Oscar campaign for the movie (itself an expensive proposition).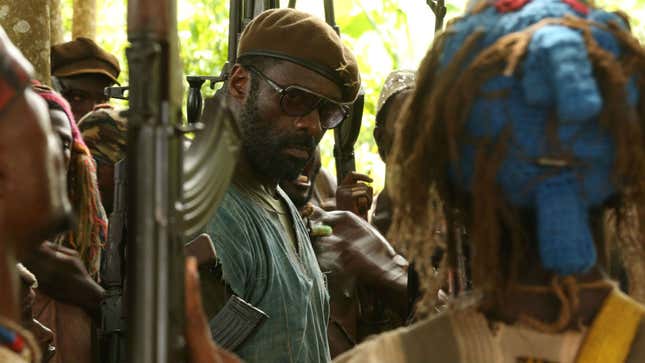 Netflix typically employs a strategy of "efficient content"—it makes and distributes shows and movies that will appeal to a wide range of people, at the lowest possible cost. That strategy is why it recently decided to bring back the dormant but adored Pee-wee Herman, and why it revives cult hits with built-in audiences such as Wet Hot American Summer and Arrested Development.
Beasts of No Nation, however, is unlikely to have wide appeal, nor an obvious niche audience. Instead, Netflix's target audience seems to be the Academy of Motion Picture Arts and Sciences.
It's actually not the first time Netflix has tried sneaking into the Oscars: The documentary Virunga, which the company won the rights to stream exclusively, was nominated for an Oscar this year, but did not win. But Beasts of No Nation will be a much more visible film, and one that will give Netflix a chance to win multiple major awards, including those for acting and directing.
Nor is it the first time Netflix has bested other major competitors for the rights to stream movies. In 2012, it beat out some of the biggest pay-TV providers to exclusively distribute Disney's catalog of movies after they're taken out of theaters. It is becoming increasingly apparent that Netflix is a major player in Hollywood, both in television and in film. This new model of distribution has upset some major theater owners, who are refusing to show Netflix's sequel to Crouching Tiger, Hidden Dragon when it's released this summer.
Unfortunately for the theater owners—who had a rough time at the box office in 2014—it may just be a matter of time before more and more Hollywood movies are distributed, at least in part, on the internet.