As Apple prepares the Apple Watch for its April launch, it's worth considering how big of a deal this is for the company, and how different this is from some of its previous launches. The watch market is unfamiliar to Apple; smartwatches themselves are relatively new and their popularity is unproven. But Apple has overcome similar burdens before.
About 10 million smartwatches shipped last year, according to research firm Gartner. That's a much smaller incumbent market than Apple has entered with some of its previous hits. For example, worldwide smartphone shipments reached 80 million in 2006, the year before the iPhone debuted, while total mobile phone sales approached 1 billion that year. By the time Apple launched the iPod in 2001, Sony alone had already sold more than 200 million cassette- and CD-based Walkman devices over the years.
Compared to Apple's other recent new-product-category scenarios, the Apple Watch actually seems most like the iPad in 2010. Then, too, Apple was essentially tasked with creating a new market. Bulky Windows tablets had existed for years, but weren't popular. Then the iPad—capable, novel, and affordable—changed everything.
While iPad sales have recently declined, it has still been a big success for Apple, generating almost $130 billion in sales since its launch, with more than 250 million shipments. If Apple could put up those sorts of numbers again, CEO Tim Cook and design chief Jonathan Ive—who seems to be the soul behind the Apple Watch—will look very smart.
Meanwhile, there's big hope for smartwatches. Gartner expects shipments to explode to 40 million this year and 60 million next year. But a lot of that success depends on Apple's ability to create the market. (For what it's worth, total watch shipments—from cheap, plastic ones to fabulously expensive Swiss luxury watches—are about 1.2 billion units a year.)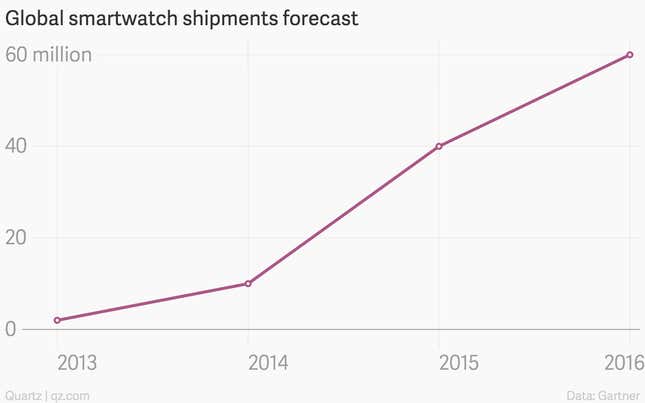 One problem is that the first wave of smartwatches just haven't been that compelling.
Samsung has been the top vendor so far in the fragmented wearable-devices market, according to a research report by Morgan Stanley. But the South Korean electronics giant admits there's room for improvement. While other Android rivals unveiled new smartwatches at this week's Mobile World Congress in Barcelona, Samsung did not. "We want a more perfect product," Samsung marketing executive Young-hee Lee told the Wall Street Journal.
Pebble, an upstart whose smartwatches use e-ink displays and feature a relatively long battery life, has also built something of a following, selling more than 1 million of its early models. The company's latest effort, Pebble Time, just became the top-funded Kickstarter project of all time, with more than $16 million in pre-orders. But that represents just 65,000 backers—a tiny number relative to expectations for Apple Watch sales.
Meanwhile, Apple's early efforts have seemed impressive, even to the watch crowd. But now, to be a hit—and to be any sort of growth driver for Apple, which did $200 billion in sales last year—the company has to convince tens of millions of people to spend hundreds or thousands of dollars on a smartwatch, something most people don't know they need, if they need it at all.
It's an audacious bet. But if the success of the iPad is any indication, Apple stands a chance of making it pay off.