Apple will reveal more details about the forthcoming Apple Watch at a media event on March 9. The company has incrementally released Apple Watch information since first unveiling it last September. But there are still many unanswered questions ahead of the device's April launch. Here are some we're thinking about.
How much will it cost?
Apple has only disclosed the Apple Watch's starting price: $349. That is likely the entry level price for the "Sport" model—Apple's most basic of three watch lines, which differ in their materials. But what about the others?
Some of the lively pricing discussion has focused on the more luxurious "Edition" line. These are made of gold, with fancy bands, and could easily fetch $5,000 or far more—novel, high-tech jewelry that Apple fans might have smirked at if it were made by another company.
But the most important price that's still secret is for the standard series, simply called Apple Watch. Most buyers will likely be choosing between these and the Sport model. Will a standard Apple Watch cost closer to $500 or $1,000? For what it's worth: In a survey Quartz conducted last year, only 3% of US smartphone owners said they would spend $500 or more for an Apple Watch.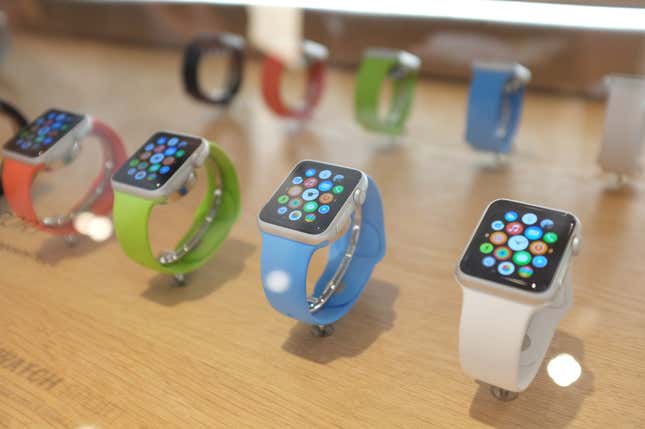 Why would someone buy one?
Apple has so far focused on three major use cases for the Apple Watch: Keeping time, communicating with other people, and tracking health and fitness. It has also shown preview glimpses of several apps, ranging from maps and directions to a remote control for music. Apple Pay, the company's mobile payments product, will also be part of the watch. And of course the gadget may also become a wrist-worn status symbol.
But why will someone really want to wear one? That part still isn't totally clear. Perhaps Apple will unveil some more compelling features during its event. There's also a good chance that other companies—not Apple—will be the ones to create the most useful and interesting watch apps. The first version of Apple's software developers kit is pretty basic, but the company has promised a more elaborate kit later this year.
How will you buy it?
Apple's network of about 450 retail stores will play an important role here. In our survey, 75% of respondents said they wanted to see an Apple Watch in person before buying it. The New Yorker's recent profile of Apple's design head, Jonathan Ive, noted that he was working with Apple's retail chief on a redesign of the stores that "will surely become a more natural setting for vitrines filled with gold." The article mentioned "a glass-topped Apple Watch display cabinet, accessible to staff from below, via a descending, motorized flap, like the ramp at the rear of a cargo plane." Apple will also likely sell the watch on its website.
But where else? Apple sells many of its iPhones, for example, through mobile operator partners and their stores. It makes sense to sell at least some basic watch models via retail partners, even at big box stores such as Walmart. High-end department and jewelry stores—or cool boutiques like Colette in Paris, where Apple held a watch preview event last year—also seem like logical outlets. One caveat: Many luxury watch stores are owned or licensed by the watch companies themselves, which are even more vertically integrated than Apple—and likely want no role in helping Apple.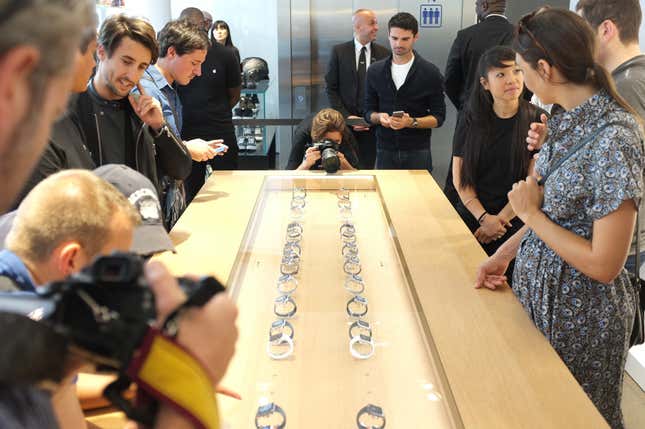 How quickly will it become obsolete?
The standard, two-year length of a mobile contract has gotten iPhone owners used to replacing their devices regularly. And in apparel, the rise of fast fashion has made clothing seem almost disposable. But watches—especially expensive ones—have historically been seen as priceless family heirlooms.
Will people happily spend hundreds or thousands of dollars on an Apple Watch, knowing there will be a better, thinner, and more capable one in a year or two? Does Apple have any tricks up its sleeve to make Apple Watches more useful over time? Could you upgrade its chip—which Apple notes is modular and "completely encapsulated in resin"—when the battery needs replacing? Or is Apple going to pioneer the idea of jewelry that has a shelf life?
How will you listen to music on it?
The Apple Watch is an obvious remote control for your iPhone's music app. But Apple CEO Tim Cook has said that people will also be able to listen to music directly from the device. Cook said on the Charlie Rose show last year, "if you go for a run, and you don't want to carry your iPhone, music is also on your watch. So with a Bluetooth headset, you can run and listen to your music without your iPhone." But how that music gets onto the watch is unclear: Will Apple only support iTunes downloads? Or would apps such as Spotify also be able to access that storage?
Meanwhile, will the Apple Watch be the device that makes Bluetooth headphones mainstream? Apple has already led two earphone trends over the past decade: The iPod's iconic white earbuds and the now-universal microphone/remote clicker on iPhone earphones. Both involve wires, but Apple's "Health and Fitness" promo video for the watch includes a man who seems to be wearing these $200 Bluetooth Beats earphones.
Bluetooth earphones have the advantage of a wireless connection—handy when you're trying to play music from your wrist—but the downsides are price, an awkward pairing procedure, and having yet another device with a battery that needs charging. Still, is this the next Apple Watch upsell opportunity?
The music question also raises the issue of storage capacity. Will different Apple Watch models offer different amounts of storage, at increasing price tiers? Considering all the other configuration options, perhaps that's adding too much complexity. "At that point it seems way too confusing," long-time Apple watcher John Gruber said on a recent episode of his podcast, The Talk Show.
What other accessories will there be?
Apple proudly showed off that its watch bands will be cleverly interchangeable. Will other companies be able to make official Apple Watch bands? (Would another watch company like Swatch—famous for its fun straps—ever do that?) Will there be covers and cases and charging stations?
Will the Apple Watch be cool?
This is, alas, a question that Apple won't be able to answer during its event. But it will certainly play a role in the watch's success.
This is not Apple's first wearable gadget, but it is the company's first fashion item. And Apple is treating this launch differently than its releases of the iPod, iPhone, and iPad. For starters, Apple has already run 12 pages of ads in Vogue, the world's top fashion magazine. It held VIP events for influencers at Paris Fashion Week last fall. It brought in a bunch of actual celebrities to last year's big keynote. While Apple has long seeded its products in Hollywood—the company calls it "buzz marketing"—you can imagine there will also be more high-profile Apple Watch placements over the next few months.
Here's the thing: The iPhone didn't become cool or the world's best-selling phone because it was in Vogue or because celebrities used it. Nor did the iPod, or the iPad, or the Mac. They became cool because they were useful, well-designed, and elegant. But mostly useful. (Similarly, tie-ins with the fashion industry didn't come close to saving Google Glass.)
It's fine for Apple to advertise the watch in Vogue—why not? That cool factor, if Apple can attain it, could probably move a bunch of units, especially this first version. But the watch's long-term success will depend on its utility and style—not just one or the other.