HBO NOW, the US pay-TV behemoth's upcoming streaming service aimed at cord cutters, will launch exclusively on the Apple TV, iPhone, iPod, and iPad for $14.99 a month in early April—conveniently, right before the April 12 season five premiere of Game of Thrones.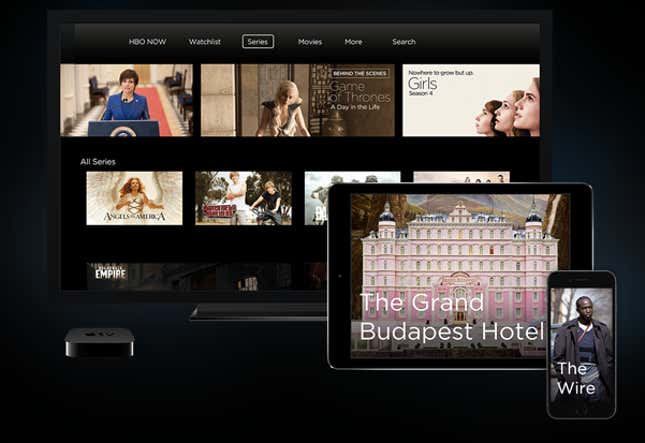 Apple CEO Tim Cook invited HBO CEO Richard Plepler to the stage to announce the news at today's Apple Watch event. The first month of HBO NOW subscriptions will be free for users who sign up through Apple in April, and Apple will also lower the price of Apple TV to $69. Plepler also debuted a new trailer (video) for the much-anticipated series.
HBO NOW—like the service currently available only to HBO cable subscribers, HBO GO—will have a comprehensive archive of past shows, in addition to live-streaming of shows as they air on actual television.
"HBO NOW provides instant access to HBO's acclaimed programming," HBO said in a press release. "Watch every episode of every season of the best series programming, more of the biggest and latest Hollywood hit movies, original HBO Films, groundbreaking documentaries, sports and comedy and music specials."
More to come…