AUSTIN, Texas–Should music ever be free? That was the inescapable topic of discussion among the hordes of recording-industry middlemen and hangers-on gathered for the music section of the South by Southwest (SXSW) conference last week.
It's a schism that has emerged just when it looked like subscription streaming services, such as Spotify, were bringing an end to the music industry's years of economic pain. The dispute concerns the "freemium" model, which allows consumers to listen to music for free in exchange for listening to ads, or pay to listen without ads.
The backlash against free began last year, when arguably the biggest recording artist on the planet, Taylor Swift, pulled all of her music from Spotify. In the past couple of weeks, Swift's stance has gained backing from the world's two biggest record companies, Universal and Sony, who together account for more than half of the recorded music market, and seem determined to clamp down on free listening. Universal is using licensing negotiations (paywall) with Spotify to "push for changes to the company's free service," the Financial Times reported last week.
Some seasoned observers at SXSW said that this could be a colossal mistake. "Treating consumers like children and telling them that everything they've enjoyed about these streaming services is going to be taken away because the biggest record companies don't like it, that's another Napster moment," Charles Caldas, the CEO of Merlin Network, the global licensing agency for independent music labels, tells Quartz. "The major labels screwed Napster and screwed the market by killing what was potentially the biggest opportunity the industry could imagine in getting into the digital space early. If they follow through with this, they are going to do it again".
Streaming as music's savior
In general, music ownership, in both physical and digital download forms, is in a death spiral. Although vinyl is making a surprise comeback, it's a niche market.
That makes subscription-based streaming the closest thing the music industry has to a savior. Figures released by the Recording Industry Association of America (RIAA) this week showed that revenue from streaming services in the US surpassed that from CDs in 2014, and grew 29% on the previous year. Credit Suisse has forecast that the global recorded music industry could return to growth again as soon as next year, thanks to the spread of streaming.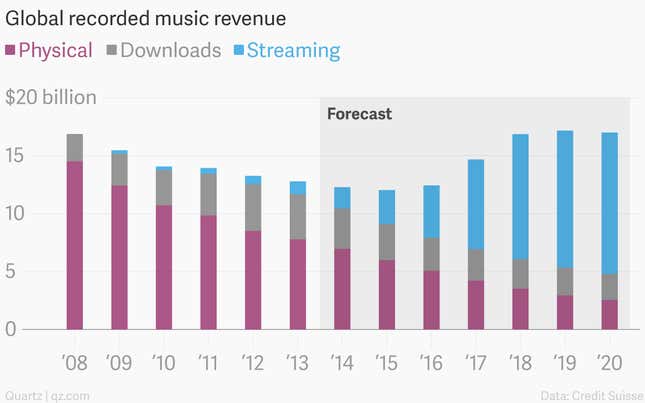 The reason is simple math. Streaming subscriptions cost roughly $120 a year—about double what the average consumer has been prepared to spend on music since the industry's peak back at the turn of the millennium. So if enough people sign up, the world could spend more on music than ever before.
Yet even though that money buys you access to the vast majority of recorded music, a thing unthinkable just a few years ago, convincing people to subscribe is proving hard. And not everyone agrees why.
On one side: the record labels
The major labels think that free, ad-supported streaming is dissuading consumers from paying, and that if it's taken away, they will cough up the money. "Look at Netflix," one mid-ranking major label executive told me at SXSW. "If they can charge $7.99 a month, with no free advertising-based service, and have millions and millions of subscribers around the world, why can't we do that in music?"
At the end of last year, Netflix alone had 37.7 million US subscribers. All the streaming music services combined had only 7.7 million, the RIAA's figures show. Subscriptions generated $799 million in revenue last year; ad-supported streaming brought in only $294 million.
"I equate 'free' with the decline of the music business," Sony Music CEO Doug Morris recently told music industry outlet Hits Daily Double. "In general, free is death." Universal Music CEO Lucian Grainge has been equally clear, telling Re/Code that "Ad-funded on-demand is not going to sustain the entire ecosystem of the creators as well as the investors."
On the other side: the streaming services
A generation of consumers who grew up with illicit file-sharing services like Napster have been conditioned to expect access to music for nothing. Spotify thinks that turning them back into paying customers is a delicate process. Erecting pay barriers too soon could turn them back to piracy. As CEO Daniel Ek explained in a blog post earlier this year, "If we want to drive people to pay for music, we have to compete with free to get their attention in the first place." So the growth of Spotify's paid service depends heavily on its free option.
The model seems to be working. Spotify says 80% of its 15 million paying subscribers started out as free users. "The idea [that] you would talk about cutting off a free service that has a clear proven path to subscriptions, when you have all these other free services out there, it just doesn't make any sense to us," Jonathan Prince, Spotify's head of communications, told Quartz.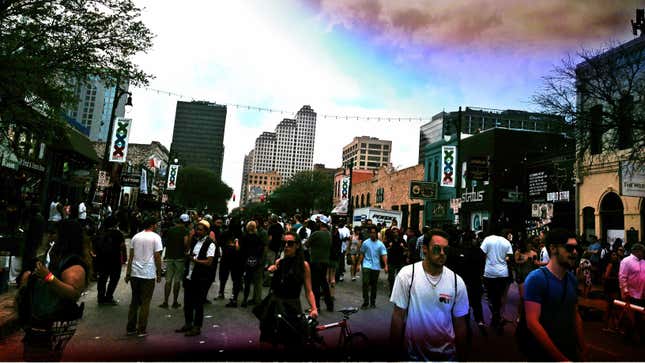 Kill the free service, therefore, and you kill Spotify's growth. The uncertainty over its future has rattled the company. Last year it looked like it was headed for an IPO; now it is trying to raise funds from private investors (paywall) instead.
Yet Spotify's failure could hurt the record labels, who not only would benefit from a successful exit (they hold equity in Spotify), but also, increasingly, from the royalties it generates.
The pressure is mounting
Spotify has made it clear that it will not give up its free service without a fight. Earlier this month, internal emails leaked to the New York Post showed that the company expects to pay Universal $1 billion in royalties over the next two years. By 2017, it claims that it will account for 39% of the label's pre-tax earnings, up from about 28% currently. The message: Why mess with what is quickly becoming your most important revenue stream?
But Spotify isn't the only one feeling the heat. The industry has been trying to crush Pandora, the free online radio service that music labels think pays them too little in royalties. And there are even hints that they are beginning to turn against YouTube. Up until now, no-one has really been brave enough to take on the Google-owned video upload site, which attracts more than 1 billion sets of eyeballs each month and is very popular for music videos. "YouTube gets a free ride," bemoans Merlin's Caldas.
But that's changing. "Free [music] has been way overdone, and the biggest culprit is YouTube," Sony's Morris said this month. "This has to be curbed if we're going to have a successful business." Another music industry source told Quartz: "There is a lot of label pressure on YouTube free on demand as well… Stay tuned."
Music videos have been estimated to account for nearly 40% of the content viewed on YouTube, but the relationship has been symbiotic: Hits like Psy's "Gangnam Style" probably wouldn't have emerged without it. YouTube has also generated $1 billion in royalties in recent years for labels and performers. That elements of the recording industry are preparing to turn against it shows their determination to re-price music.
In a coup for the major labels, Apple, the world's biggest company, is widely expected to eschew a free, ad-supported option when it launches its own eagerly anticipated streaming music service later this year. Apple can afford to do this. It has nearly $180 billion in cash sitting on its books and doesn't need to make any money from music. But the decision also makes strategic sense, because it means the labels will ramp up pressure on companies that do offer a free service—namely, Apple's competitors.
The biggest risk
If the major record labels get their way and shut down free music, it seems unlikely that CDs or even digital downloads will experience a surprise resurgence. It is possible, as the music industry hopes, that consumers, starved of music, will flock to paid streaming.
But it's also plausible that Spotify is right, and that they'll return to piracy. The company argues that piracy, of music at least, has declined sharply in Scandinavian markets where illicit file sharing has historically been rampant (and where Spotify is now dominant). In Sweden, for example, music piracy fell by 25% between 2009 and 2011, the company says.
Outside the world of the major labels, that idea has a lot of support. Martin Mills, the CEO of London based alternative record company Beggars Group, recently described the war on freemium music as "insane". Many at South by Southwest agree. "Look at this from a consumer point of view. We have one healthy, growing part of the music industry, which is the streaming services," Merlin's Caldas says. "Taking people who were bringing no value to the industry, who were pirates, bringing them into a monetized environment, and then converting them into higher-value, paying subscribers, that's what we should all want."