Here's what happens when you are a giant media conglomerate and you confirm plans to make a sequel to the highest-grossing animated film ever: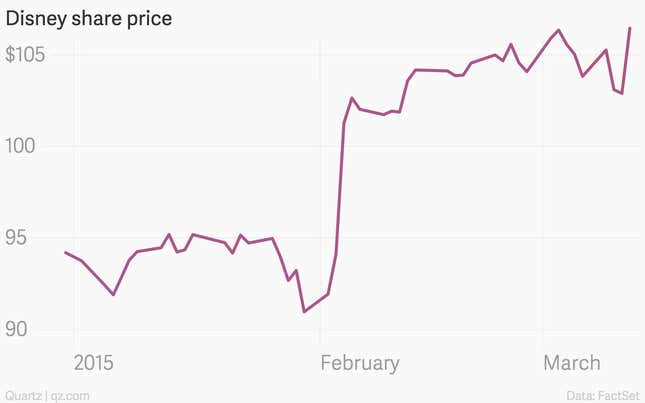 Disney shares are up nearly 4% after the company confirmed at its annual shareholder meeting that a sequel to Frozen is in the works. Frozen was an absolute smash hit for Disney. It grossed $1.27 billion in global ticket sales, but the benefits were not only at the box office. Last quarter, operating profit at the company's consumer products division jumped 46%, in part thanks to Frozen-related merchandise. It is even helping the company's amusement parks business.
"I don't think that we can underestimate the impact that Frozen has had across our company in all of our businesses," Disney CFO Jay Rasulo told analysts last month.
Interestingly enough, and despite Hollywood's well documented sequel obsession, the company had been quite coy about the prospects for a second Frozen up until now.
Disney has been an absurdly good equity investment over pretty much any time frame you consider: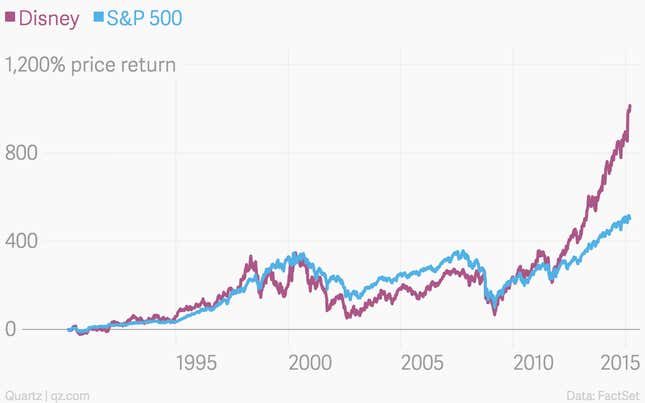 There are a lot of reasons for this—its controlling stake in ESPN is one of them—but Frozen is a good example of how the company, like few others, is able to create hugely lucrative film franchises and then monetize them in every way imaginable.