US food giant Kraft has recalled some 6.5 million boxes of its macaroni-and-cheese product, saying it was aware of eight incidents in which people had found small pieces of metal in the popular, yellow, gooey pasta kits. The boxes in question were sold in the US, including Puerto Rico, and in some areas of the Caribbean and South America, the Associated Press reports. Here's what the company said today in its official statement on the mishap:
Kraft has received eight consumer contacts about this product from the impacted line within this range of code dates and no injuries have been reported. We deeply regret this situation and apologize to any consumers we have disappointed.
While recalls are commonplace among large companies, Kraft has had a streak of them (see last year's recalls on Velveeta, Oscar Meyer wieners, and several brands of Kraft cottage cheese) at a time when upstart competitors stand ready to nibble away more and more market share.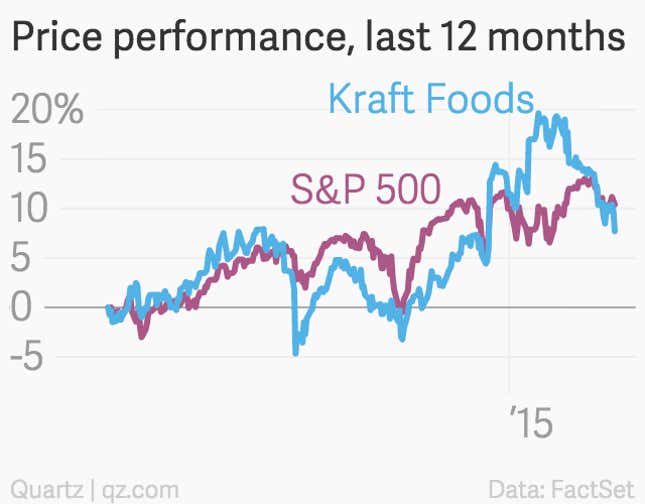 The success of newer brands like Annie's—which offers an organic take on mac-and-cheese—underscores the challenge facing the large companies that grew to dominate the food market in the developed world since the advent of refrigeration.
The strength of the big companies was their ability to regularly and cheaply deliver consistent—often shelf-stable—products, via sprawling logistical systems. But the tilt in taste among affluent consumers, toward organic, local, and healthier fare, has forced everyone from brewing giants to candy makers to reconsider their business models on the fly (and compelled Kraft rival General Mills to acquire Annie's last year).
Nonetheless, Kraft's stock has performed relatively well over the last year. Even after the news of the recall broke, the shares are up nearly 8% over the past 12 months, slightly trailing the 10.5% gain in the S&P 500 index.