America's premiere college basketball tournament, known as March Madness, starts today. Many games in the early rounds air during the workday, so for hoops fans, that means watching the games online at their desks, hoping the boss doesn't notice.
The NCAA, very aware of this phenomenon, has for years included a "boss button" on its website for streaming the games. Simply click the button, and your screen instantly shifts from basketball to spreadsheets, email, or some other productivity veneer.
Here are some "boss buttons" from years past (it debuted in 2006):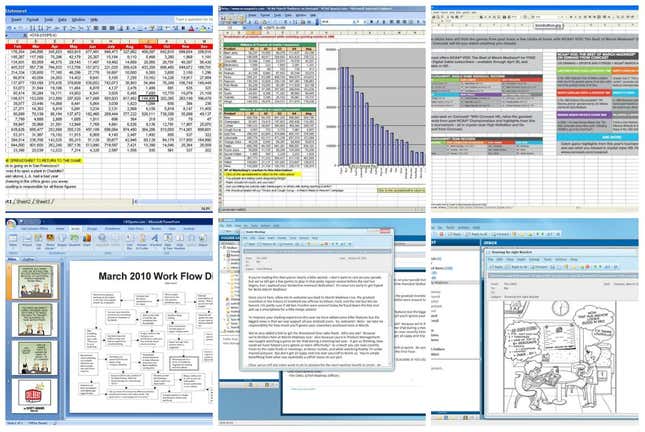 Some prior fake screens didn't look all that realistic, though. In 2012, for instance, the screen switched to an archaic inbox—one that someone in 2012 probably wouldn't be using. Here's what that looked like in action:
But the "boss button" has evolved over time, and this year's is the most realistic yet. It allows you to toggle among work, class, and home modes (though we wonder why home is necessary at all). The work option, pictured at the top of this piece, is a slideshow creation tool that actually looks a lot like Google Slides.
The whole ruse is sponsored by Buick, the General Motors automotive brand, and in an ingenious form of native advertising, some of the slides in the fake deck include information about Buick cars: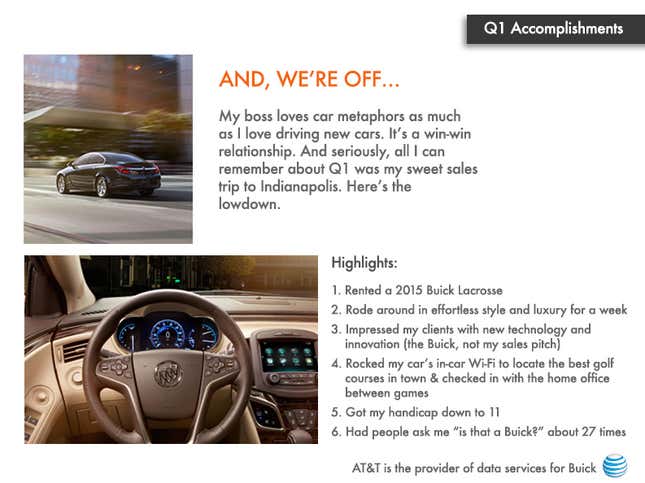 It's not the first time the button has included some clever advertising; Comcast did it in 2009.
In fact, nearly every aspect of the three-week basketball tournament is branded (video), even though collegiate athletes are not paid for the revenue they bring to their universities and the NCAA.
There are 17 games on the first day of the tournament (March 19), about half of which are aired during normal workday hours in the US. We apologize in advance if this story has tipped your boss off to the existence of the decoy button.