Anyone who has braved the neighborhoods occupied by Tiffany's New York stores on a weekend can tell you they are tourist hotspots. But on an earnings call today, Tiffany's VP of investor relations, Mark Aaron, said foreign tourists in the US aren't buoying Tiffany's bottom line like they have before. He didn't blame the jeweler's collection, changing tastes, or more attractive competitors. He blamed the dollar.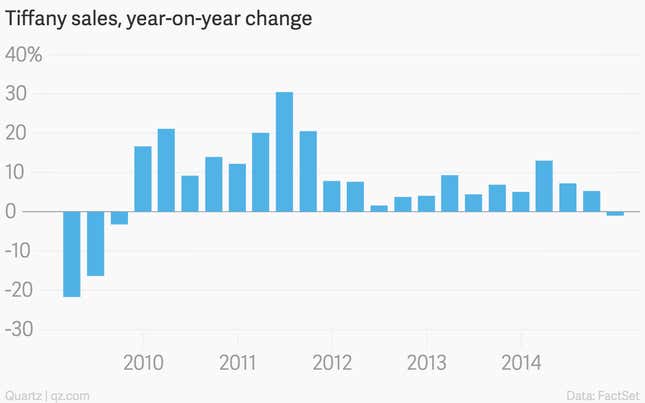 The strong US dollar is making it more expensive for foreign tourists to bring home those little blue boxes. The US represents nearly half of Tiffany's business, and Aaron estimated that exchange rate-sensitive spending accounts for about a quarter of those sales.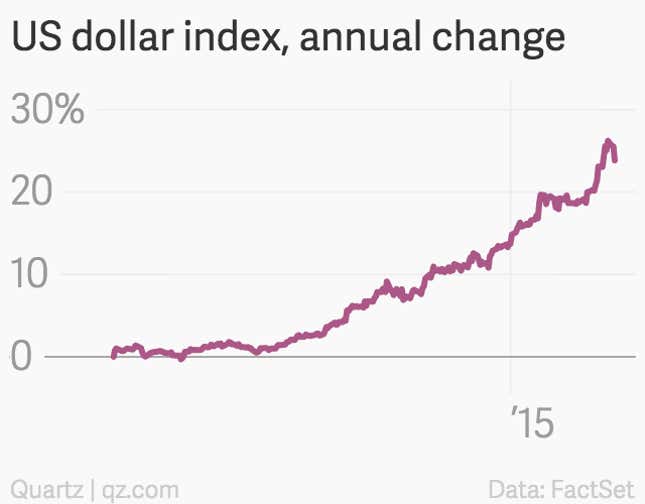 "The strong US dollar had a minimal negative translation effect on the Americas sales, but is having an adverse effect on foreign tourist spending in the US—especially in New York," he said on today's call, adding that in 2014, foreign tourists accounted for about 40% of the sales at Tiffany's flagship store on Fifth Avenue.
While Tiffany's earnings report wasn't dazzling, it wasn't disastrous either. Maybe that's because the company had already warned shareholders about the low tourist spending back in January.
In the fourth quarter of 2014, Tiffany & Company's sales slid to $1.29 billion in the fourth quarter, down one percent from $1.3 billion in 2013. The company is however, back in the black, with profits of $196.2 million, compared to a loss of $103.6 million in the fourth quarter of 2013.