Tiffany released a holiday sales report yesterday that sent the company's shares down 14%.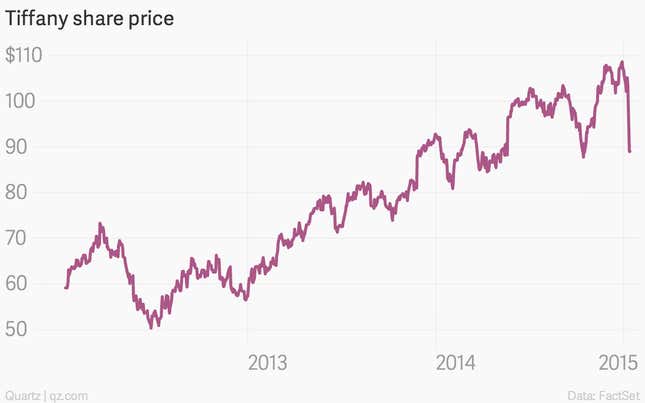 It was the shares' most precipitous one-day drop since their 21% plunge on Sept. 17, 2001, the day the market reopened after the Sept. 11 terrorist attacks.
Today the stock fell another 1.6%, to $87.56, in midday trading.
What has investors so worried? Weak sales in the US and the impact of foreign-exchange rates, mainly.
The Americas showed a disappointing 1% decrease in sales, belying the gathering strength of the US economy.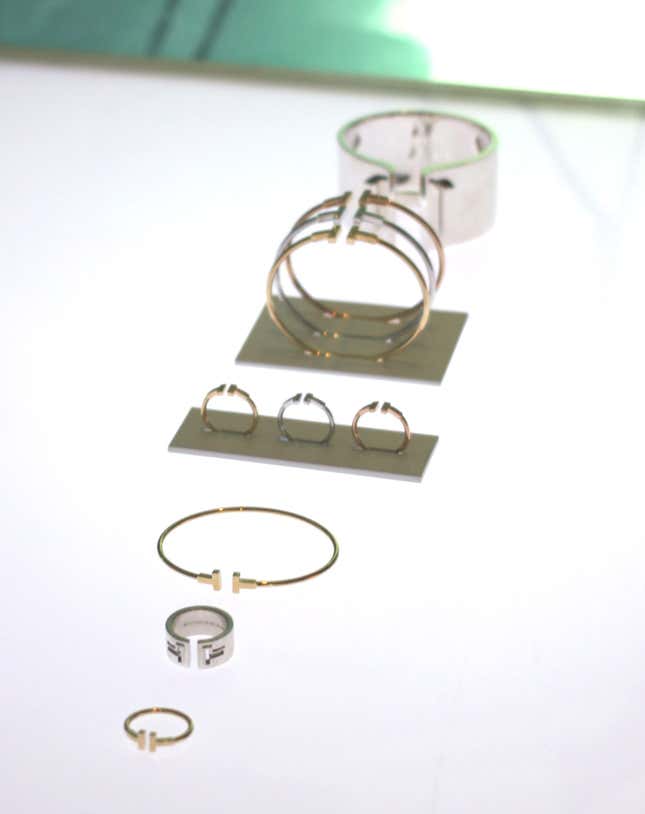 It turns out Tiffany's plan to seduce customers with the heavily advertised, moderately priced, stone-less jewelry in its new T collection didn't entirely work—or at least not as planned.
"Our very strong and concentrated marketing focus on Tiffany 'T' generated strong sales growth in fashion gold jewelry," Tiffany chairman and CEO Michael Kowalski said. "However, that success did not translate into broader sales momentum as we had anticipated in other jewelry categories."
Which is to say, customers who come in for a modest gold cuff generally aren't picking up some canary diamonds at the register.
It may be time for Tiffany to bring back the bling at home—especially with weak currencies overseas hurting the bottom line.
The market could have predicted that a strong dollar relative to other currencies would hurt the value of the company's international sales, but Tiffany's report was proof of just how sharp the pain was in November and December—and came with warnings that there's more to come.
Stripping out the effects of currency fluctuations, worldwide sales over the holiday period rose 3% from the same two months a year earlier. But when the international revenue was converted into dollars, total sales fell 1%, to $1.02 billion. On a constant-exchange rate basis, Tiffany would have seen 9% sales growth in Europe. In US dollars, European sales increased just 1%, to $133 million.
"We are planning cautiously as we anticipate significant headwinds from the stronger U.S. dollar against all of our key currencies that, as we experienced in the holiday period, negatively affects both the translation of results and sales to tourists in the U.S," said Tiffany president Frederic Cumenal.  "While we are still in our planning process, we believe these factors will likely result in our planning low-to-mid single-digit sales and earnings growth in 2015."
Beyond the currency issues, a new consumption tax in Japan—home to nearly one fifth of Tiffany's stores—hurt global sales.