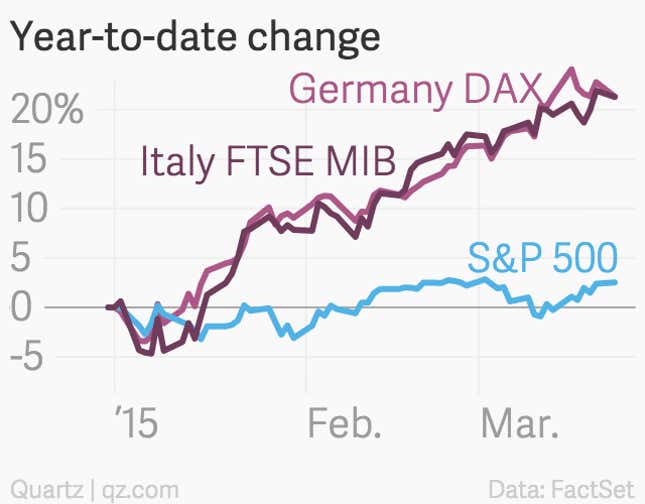 Europe is one of the hottest trades in global markets this year. The Euro STOXX 600, a broad gauge of European equities, is up nearly 17% since the start of the year. Germany's DAX is up 21.3%, as is Italy's FTSE MIB. France's CAC-40 jumped 18.3%.
There isn't a lot of mystery here. Global investors seem to have learned that when central banks start creating fresh money—as the ECB began doing en masse this month with the launch of its QE program—stock markets go up. After all, US stocks soared with the introduction of the Federal Reserve's quantitative easing policies. The Bank of Japan's aggressive QE policies have also given the markets a strong lift there.
European Central Bank data released last week on foreign investment flows showed a stampede of foreign cash into European stocks, with roughly €49 billion ($54 billion) pouring into euro zone equities in January.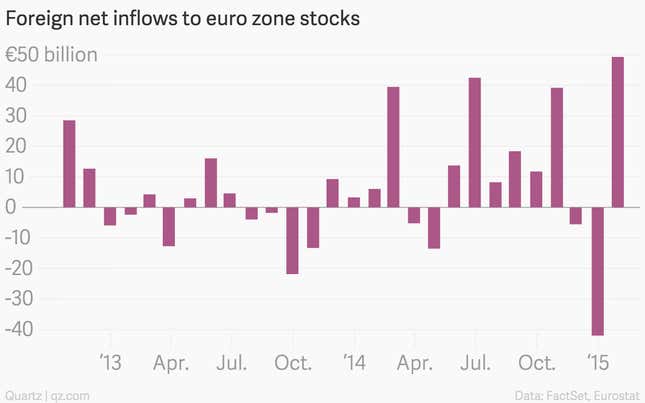 That upsurge acts as a favorable tailwind for Europe's stock markets. If the US's experience with its quantitative easing program is any guide, this pattern may continue until the ECB signals a retreat from QE, which is expected to continue until at least Sept. 2016.