This post has been updated with a comment from Hillerich & Bradsby.
It's hard to think of any object more American than the Louisville Slugger, a bat that generations of baseball lovers grew up revering. But now the Louisville, Kentucky-based company Hillerich & Bradsby has sold the global rights (paywall) to the brand to Wilson Sporting Goods, which itself is owned by the Finnish equipment conglomerate Amer Sports.
The unofficial bat of major league baseball, the Louisville Slugger was used by legends such as Babe Ruth and Jackie Robinson, and has been immortalized in pop culture and in songs by artists ranging from Carrie Underwood (video) to Eazy-E (video) to Dire Straits (video). The company's bats, which have been around for 130 years, are used by about 60% of major league baseball players.
Here is the New York Yankees recent retiree and future Hall-of-Famer Derek Jeter talking about his Louisville Slugger:
But despite the status of its signature bat, the company has struggled in recent years, with a damaging recall of Chinese-made softball bats and ground lost to some newer bat-makers. The only way forward, the owners said, was selling the bat that made the company's name.
"The decision to sell the Louisville Slugger brand was a difficult and serious one to make," said John A. Hillerich IV, CEO of Hillerich and Bradsby, in a news release. "The Hillerich family, and those closest to the brand, firmly believes that a new business model is necessary to realize the enormous potential of this brand in the future."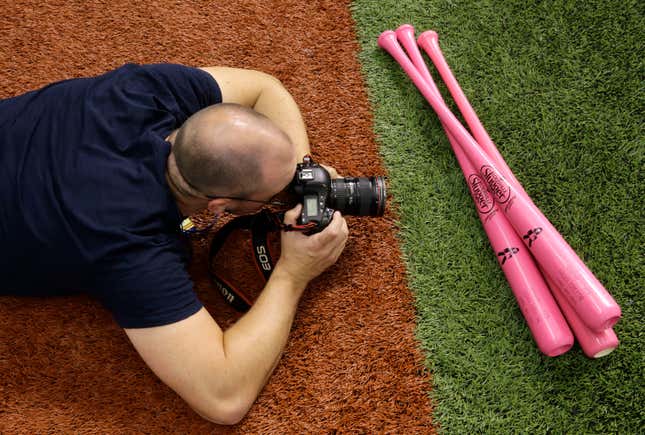 Wilson, along with Rawlings, Nike, and Mizuno, is already a popular brand for baseball gloves and other sporting goods. The Chicago-based company was acquired by the Finnish company Amer Sports in 1989.
The good news for the city of Louisville is that the bats will continue to be manufactured by Hillerich & Bradsby locally. Hillerich & Bradsby will also retain ownership of the popular company museum in downtown Louisville.
But with its rights now residing in Scandinavia, the Louisville Slugger's ties to Kentucky no longer seem quite so unbreakable.
Update at 2:38pm EST: A Louisville Slugger spokesman tells Quartz that 52 employees will lose their jobs under the new ownership.