In March, dominant mobile dating app Tinder announced it was moving to monetize its widely-used service with Tinder Plus, a premium monthly subscription service that allows users to undo swipes, browse for matches in other cities, and avoid advertisements the app will reportedly introduce later this month. (It also charges more for older users—more on that later.)
For a company said to be valued at around $1 billion, the move was inevitable, but also risky. Unlike some of the online dating sites that preceded it, Tinder has built its reputation—and user base—around a casual, fun and totally free-of-charge experience. The app's simple interface and almost game-like user experience have no doubt aided its meteoric ascension. Now that the app's cost-free environment has been compromised, however, many are questioning the viability of its business plan, and wondering if Tinder's millions of millennial daters are as ready as their app to take the next step.
Competitors will likely be keeping a close eye on whether Tinder is able to cash in on its estimated 50 million-plus active devotees. But the launch will also be closely watched by investors hesitant to pour money into an industry that, despite rapid growth, has yet to prove it can turn a profit commensurate with its massive user base.
"Tinder is certainly setting the pace and is kind of the bellwether for whether these apps can be monetized," Justin McLeod, CEO of dating app Hinge, tells Quartz. "The investment dollars are going to depend going forward on whether Tinder is able to monetize."
Outside of Tinder, Hinge, which matches users with friends of friends on Facebook, is one of the most prominent mobile-only apps available, and McLeod is planning to monetize it sometime in 2016. Until then he is focused on expanding its reach—Hinge is currently available in 34 cities—and continuing to add users by word of mouth. In December, the company secured $12 million in funding; and if Tinder Plus is successful, more dollars could be on the way, both to Hinge as well as to other upstart mobile dating-apps like Bumble and Coffee Meets Bagel.
But if the early response—or maybe "backlash" is a better word—to Tinder Plus is any indication, shaky investor confidence may be the least of the company's problems. Since it was introduced, the premium version has been almost universally panned. Criticism has centered around its age-based pricing tiers—which have been called everything from ageist to sleazy—as well as the surprisingly high monthly subscription fee ($19.99 for users 30 and over and $9.99 for users 29 and under in the US). Morgan Stanley wrote in a note to clients that Tinder "will not have much success monetizing with a high-cost recurring monthly subscription offering," estimating that only 5 to 6 percent of users will pay for the service.
Still, Tinder remains confident it can get users to pay—and they may ultimately be right.
Similar to dating apps now, there was a time not so long ago when paying for in-app mobile game purchases would seem laughably frivolous. That has since changed, however, and paying for extra Candy Crush lives is neither uncommon nor stigmatized.
With their slick interfaces and "yes or no" swiping, many mobile dating apps are beginning to mimic the addictive look and feel of the actual games that preceded them. And though it may feel crazy to pay $10 or $20 extra for a few Tinder features right now, this hesitation may too fade. Indeed, the next generation of apps, like Hinge, could very well structure their monetization plans around far cheaper in-app purchases in an effort to appeal to touch-happy teens and twenty-somethings.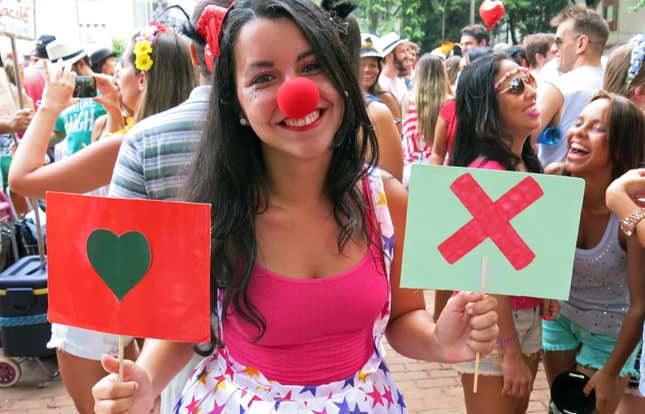 Tinder's biggest trump card may turn out to be a sociological one. While mobile commerce is growing at an astonishing rate, the effectiveness of elaborate personal profiles, the bedrock of the appeal of desktop-based sites, has been largely disproven. For older millennials, cultivating a digital persona was a social necessity. For teens and younger twenty-somethings, however, one-touch swiping, liking, and commenting is beginning to feel more natural than the more old-fashioned face-to-face courtship rituals.
There's simply less at stake when gauging romantic interest through a screen. Mobile dating apps are learning how to economize these interactions in the way Facebook and Twitter streamlined clunkier predecessors like MySpace. It seems logical that younger millennials would embrace these apps to manage their romantic relationships the way older millennials did so for friendships and business acquaintances.
"There's some sense that online dating isn't cool because of the old days of Match.com," McLeod said. "But these days—and I think Tinder did a lot to break open that stigma—if all you have to do is click a button, then why wouldn't you?"
If able to overcome these last emotional hurdles, mobile dating apps will indeed end up influencing modern dating culture far more than Match or eHarmony ever could. Tinder wants users to feel like their app is the socially acceptable, fun version of online dating—and that includes singles who are looking for a serious relationship. So as long as Tinder and other mobile dating apps keep the features that made their initial free services appealing, it's likely they will be able to keep to continue dictating modern dating culture.
At this point the Millennial march toward mobile love seems inexorable. It's only a matter of time before the money falls in line, as well.