The US and the UK, two of the world's healthier developed economies, both recorded zero annual inflation last month amid a global push lower, driven by falling energy prices.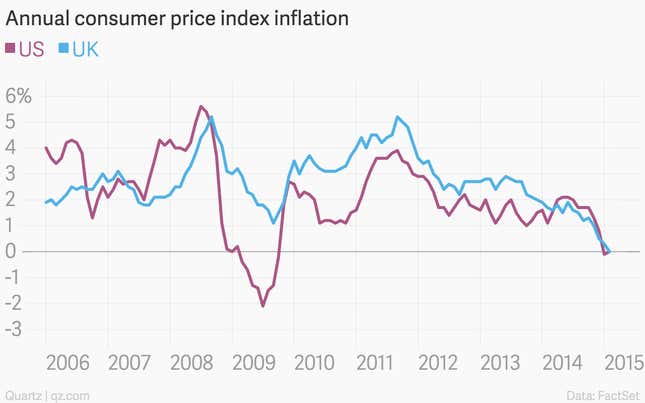 For workers, this might feel like a good thing. Falling prices mean that—all else being equal—wages have grown in purchasing power.
But for central bankers, it's a little more worrying. The Bank of England is expected to slowly begin raising interest rates next year according to a Reuters poll; the Federal Reserve is in a similar position, with a separate Reuters poll calling for a rate hike later this year. Observers have been saying the two are in a high-stakes game of chicken to see who will begin normalizing interest rates first, something that is tougher to do when faced with falling prices.
It should be noted that central bankers tend to ignore "headline" inflation numbers and focus on "core" inflation, which strips out volatile price changes in food and energy. In the US, core inflation remained stable at 1.7% last month. In the UK, however, core inflation, which also removes alcohol and tobacco from the equation, is actually declining, which makes a near-term return to a more normal interest rate policy a bit less likely.