The numbers: Weak. PVH, the parent company of Calvin Klein and Tommy Hilfiger, posted revenue growth of just 0.7% to $8.24 billion for fiscal 2014. Tommy Hilfiger's overall sales increased 6% on a constant currency basis, but even though Calvin Klein performed well in the US, with pop star Justin Bieber as the face (and torso) of its underwear business, a 5% drop in Calvin Klein's international comparable-store sales still hurt PVH's bottom line.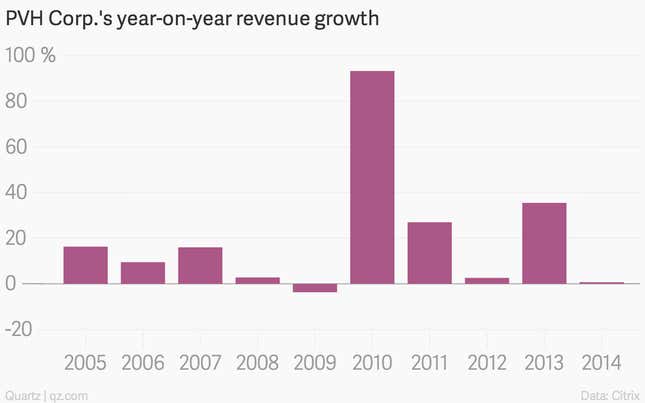 The takeaway: PVH estimates that volatile global currency fluctuations cut more than $100 million from its 2014 net income, and it expects the trouble to continue through fiscal 2015.
These struggles won't just be overseas. As with other brands, stores in US destination cities such as Miami and New York could continue to see reduced sales as the strong US dollar keeps tourists away and reduces spending by those who do show up. "The strength of the U.S. dollar relative to other major currencies in which we conduct business and the volatile global macroeconomic environment is expected to have a significant negative impact on our 2015 results," CEO Emanuel Chirico said in the earnings report.
What's interesting: One of the major reasons for PVH's international revenue slowdown was the timing of Chinese New Year and its attendant shopping boom in Asia. It occurred on February 19 this year, putting it outside PVH's fiscal year, which ends on February 1. PVH's fiscal 2013 calendar, by comparison, had the benefit of two Chinese New Year boosts, one landing in its first quarter and another in its fourth. While Calvin Klein stores enjoyed higher operating margins overseas, missing out on those holiday shoppers hurt.
It wasn't all bad news for Calvin Klein, though. The brand's January underwear campaign featuring Bieber and the model Lara Stone generated a huge amount of engagement and boosted sales, Chirico said on the earnings call. Traffic spiked on CalvinKlein.com, and all the controversy the ads generated, from allegations that Bieber's anatomy was airbrushed to the parody photoshop jobs and videos, only helped the brand. (Chirico did jokingly address the airbrushing claims on the call: "It was his head on my body," he said.)