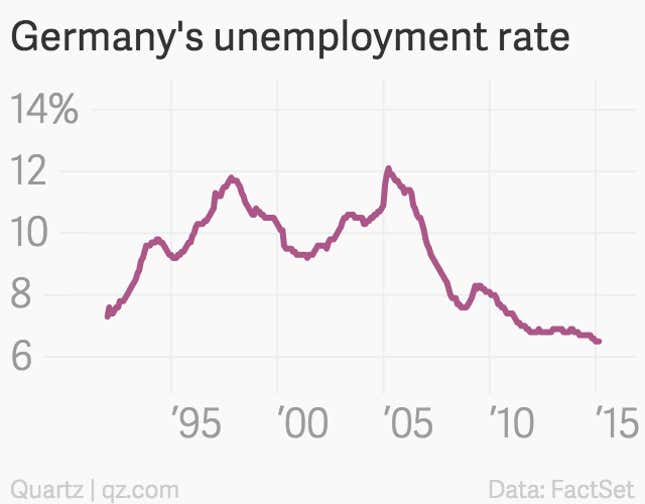 Germany just released its latest unemployment figures, and its jobless rate is at the lowest level since re-unification. Germany's is the largest economy in the euro zone and has served as an economic anchor for the rest of the member states, which gives it considerable power in economic dealings.
Greece, on the other hand, is grinding to recover from its prolonged recession, with unemployment above 26%. Its new leftist government has been trying to restructure its debts.
The majority of Greece's debt is owed to the European Financial Stability Facility, a consortium of euro zone governments, in which Germany is the largest shareholder. Germany has been staunchly opposed to Greece's restructuring plans, seeking instead to extract economic reforms that it thinks are necessary to make Greece's economy more sustainable. It's a process that pits one of Europe's strongest economies against one of its weakest.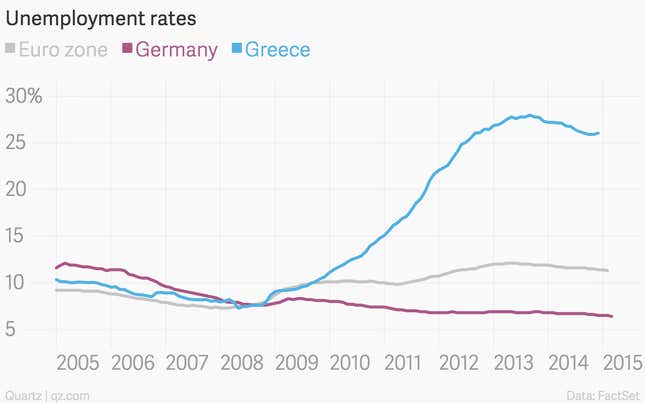 Greece's unemployment rate had been on the way down, along with the rest of the euro zone's, but the latest reading from December shows that it's heading in the other direction. As the joblessness gap between the two nations expands, it shows how at-odds the pair is; Germany wants to save the euro and keep Greece from toppling over the edge, but not at the cost of another failed bailout and its own prosperity.