I've been in Paris for the last two weeks, mostly disconnected. I won't wallow in specifics; suffice it to say that the struggle with cable TV, internet, and cellular providers here is eerily similar to what we commonly endure in the Valley. There is one difference, however: A few hours ago, I watched as a cable technician spliced a fiber connection into our apartment, something I can't get in downtown Palo Alto.
A few web-free days watching people and eavesdropping on conversations in Left Bank cafés helped me rethink my position on the Apple Car—because of the Apple Watch.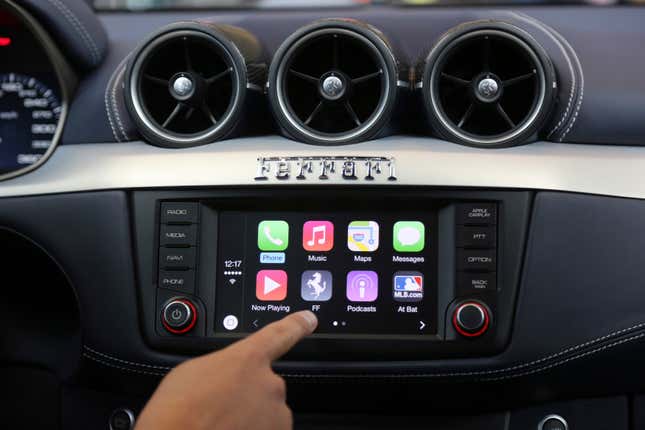 The local level of interest in the Apple Watch is mild at best, nothing like the paroxysms in the states. Never have we seen such large-scale derangement over an Apple product announcement—not for the iPhone or for the iPad—Steve Ballmer's and Dan Lyons' shouts notwithstanding. Google "Apple Watch fail" and you'll get more than 61 million hits—and this is before anyone has had a chance to pay for and use the product.
The latest instance of mental poisoning comes from The New York Times' tech columnist Nick Bilton. The (original) title of his anti-Watch column, "Could Wearable Computers Be as Harmful as Cigarettes?," seems like a purposefully provocative attempt to attract page views. But Bilton is no carnival barker; he's a real journalist with an otherwise impeccable professional record and a solid reputation for insightful writing. As you'll see when you click on the link, the title has since been changed to a less prurient "The Health Concerns in Wearable Tech," and a long editor's note and a correction have been appended. If that weren't enough, Margaret Sullivan, the Grey Lady's public editor, has weighed in with an apology of sorts, calling some of Bilton's assertions "pseudoscience."
For a bit of a different perspective, we can turn to "How Apple Makes the Watch" on Greg Koenig's tech-porn blog Atomic Delights. Using pictures from the Apple Watch films, Koenig offers a lovingly detailed exploration of Apple's industrial design decisions and manufacturing feats:
Apple appears to have eschewed any revolutionary alchemy and instead, applied an innovative work hardening process to create gold that is (claimed to be) significantly harder than the typical 18kt used by other watchmakers.
From gold alloys and steel forging, to CNC (Computerized Numerically Controlled) machining, laser clean-up, and in-process measurement exploits, Koenig's post is meant to impress us with the depth of the technical organization behind the product.
After mentioning "rumors of entire German CNC mill factories being built to supply Apple exclusively" and the disappearance of manufacturing experts who later reappear in Cupertino or Shenzhen, Koenig concludes:
While we all are massively impressed with the scale of Apple's operations, there is constant intrigue as to exactly how they pull it all off with the level of fit, finish and precision obvious to anyone who has examined their hardware.
(I can safely say you won't be bored with Koenig's blog. After reading about the Watch, you should continue down the page to his article on Mac Pro Manufacturing, followed by a 15-second video that shows how objects we can't live without—springs—are made.)
After a couple of readings, however, Koenig's thoughts on the scale and precision of Apple's manufacturing process got me thinking about my views of the putative Apple Car. In two Monday Notes, "The Fantastic Apple Car" and "Apple Car: Three More Thoughts," I had previously expressed strong skepticism about the potential product.
Just because one has a long history of eating and drinking at the best restaurants on the planet doesn't qualify you to become a successful restaurateur. Perhaps more importantly, however, senior vice president of design at Apple Jonathan Ive's justly renowned prowess in coming up with exquisitely polished objects misses the point of car manufacture. In the car industry, the focus isn't on the object, but rather on the machine that excretes the cars in high volume, at high quality, and with well-managed cost. It's the Industrial in Industrial Design that matters.
From these two points I concluded that while the idea of an Apple Car is attractive, Apple shouldn't confuse its love of cars and its high regard for beautiful swage lines with an ability to become a successful car maker.
Now, I wonder if I ought to think differently.
The scale of Apple's supply chain makes it clear that the company knows how to make the machine that makes the machines on a very large scale and at a high quality level. Koenig helps us grasp the otherwise unimaginable size of Apple's manufacturing in his blog post [emphasis mine]:
Apple is the world's foremost manufacturer of goods. At one time, this statement had to be caged and qualified with modifiers such as "consumer goods" or "electronic goods," but last quarter, Apple shipped a Boeing 787's weight worth of iPhones every 24 hours. When we add the rest of the product line to the mix, it becomes clear that Apple's supply chain is one of the largest scale production organizations in the world.
(Initially, I read Koenig's statement as "one 787 full of iPhones everyday." But, no, this is the entire unladen weight of the 787 itself.)
How does this compare to cars? US sales of the 3,000 lb. (1,500 kgs) Nissan Leaf averaged 2,500/month in 2014. That's 7.5 million lbs. worth of cars. The iPhone's monthly weight (240 thousand lbs. * 30 days) is…7.2 million lbs. As another reference point, Tesla sold 2,500 cars in September 2014.
But even if we assume that Apple can manage a supply chain that produces a month's weight-worth of electric cars equivalent to the size and weight of a Nissan Leaf or—two notches up—of a Tesla, the next question is whether or not such a product will move the needle financially. Will it sell in multiples of Apple's new unit of currency: $10 billion? (Apple 2015 sales are expected to significantly exceed $200 billion.)
For this to happen, the putative Apple Car would have to sell in volumes about 10 times higher than what Nissan did last year in the US: 30,000 vehicles/month, at $30,000 each, times 12 months = $10.8 billion.
Of course, I'm looking at the putative Apple Car in terms of the car as we know it today—just as we all initially looked at the iPod and the iPhone using existing products as the frame of reference. Perhaps Apple has something more imaginative, more in keeping with its Think Different mantra than a mere derivation of existing designs. But whatever it intends, I no longer believe that Apple can't design a machine to make cars.