High-end fashion retailers have been some of the slowest to sell their products online, taking baby stiletto steps—or none at all—into the realm of e-commerce. Céline, Dior, and Chanel have all kept their collections offline, bristling at the thought of their otherwise exclusive products being sold on the all-access web. But Bruno Pavlovsky, Chanel's president of fashion, told WWD that will soon change.
Pavlovsky said customers could expect Chanel t0 finally launch its e-commerce business in late 2016. He declined to say which categories Chanel would sell online—iconic quilted handbags? nubby tweed dresses?—but we assume there will be an edited selection of both ready-to-wear and accessories. We have contacted Chanel for more information, and will update this post with any response.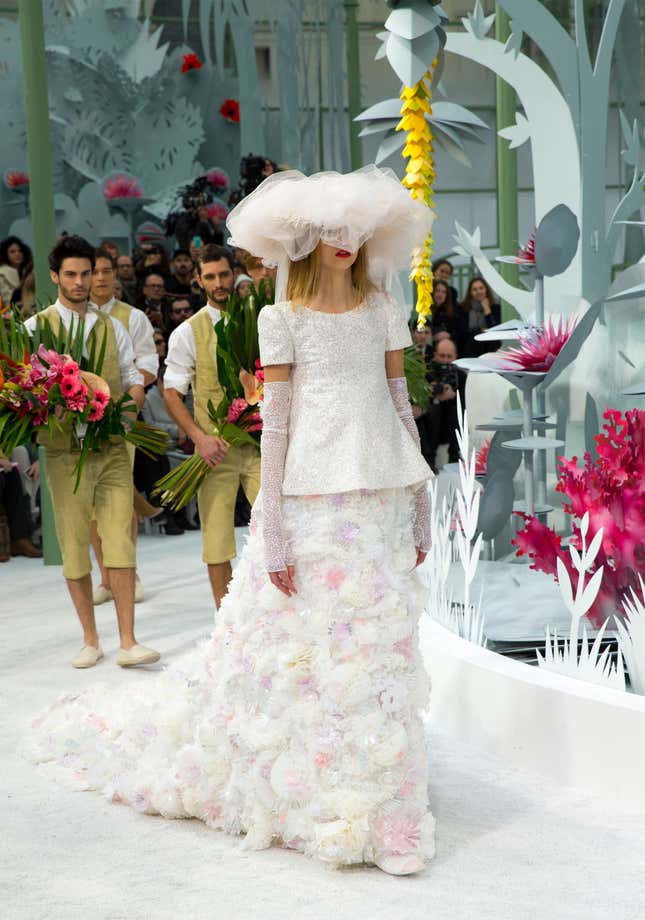 One of the most interesting parts of Chanel's business is its Paraffection subsidiary, a collection of artisanal European ateliers the brand has acquired—and preserved—to produce hats, embroidery, gloves, jewels, and feather and floral embellishments for Chanel, as well as other customers. (Much of that craft was on display at Chanel's Métiers d'Art presentation on March 31 in New York.) Pavlovsky told WWD that that three of those companies, glove-maker Causse, milliner Maison Michel, and cashmere house Barrie Knitwear, will have separate e-commerce sites as part of continuing efforts to develop those businesses.
Although the vast majority of luxury purchases still happen in stores—some 94%, according to Fflur Roberts, Euromonitor's head of luxury goods—Exane BNP Paribas analyst Luca Solca has said that digital sales could be "the next China." (And just in time, as luxury sales in China flag.) The coming merger of luxury e-commerce juggernauts Yoox and Net-a-Porter are also likely to bring more high-end shoppers to the web.