Net-a-Porter, a glossy, sophisticated luxury designer fashion website, and Yoox, a site that specializes in discounted off-season clothing, are merging to create a fashion and tech giant with a combined net revenue of about €1.3 billion ($1.4 billion) and more than 24 million monthly website visitors.
The deal, announced earlier today, goes into effect in September, assuming Yoox's shareholders approve it in June. As well as revenue and customers, each company brings skills and infrastructure to the proposed joint company, Yoox Net-a-Porter Group. Yoox is a tech powerhouse, providing the architecture for dozens of designers' e-commerce sites. Net-a-Porter, on the other hand, has mastered the art of telling the story behind the clothes—with beautiful design and editorial content that blurs the line between media and commerce.
Here's everything you need to know:
The numbers: That combined net revenue breaks down to €524.3 million ($562.9 million) for Yoox and €753.8 million ($809.3 million) for Net-a-Porter.
Yoox has 15.2 million monthly unique visitors and 1.3 million active customers, with an average order value of €202 ($217). Net-a-Porter has 9 million monthly visitors and about 800,000 active customers, with an average order value of €481 ($517).
Together, the Yoox Net-a-Porter Group will spread across 180 countries, with most of the business in North America and Europe.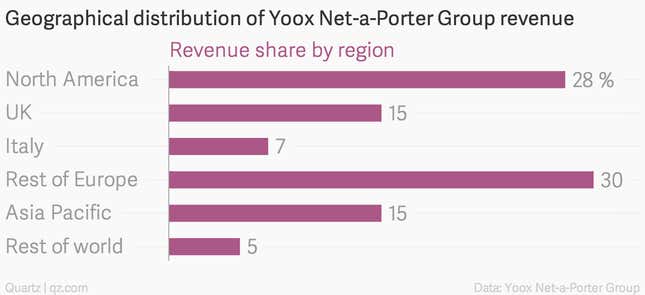 Who gets control: Net-a-Porter's higher revenues don't mean its parent company, Richemont, will call the shots in the new company. Richemont gets 50% of the shares, but its voting rights will be capped at 25%, meaning Yoox will be in charge of the business.
Yoox founder and CEO Federico Marchetti will be the chief executive, while Net-a-Porter founder Natalie Massanet will become executive chairwoman of the new group.
About Yoox: The Italian company has three global e-commerce sites: Yoox.com sells primarily discounted previous season items across a range of price points; Thecorner.com offers current season luxury and designer fashion; and Shoescribe.com focuses solely on women's footwear.
Those sites are only part of Yoox's power, however. The company also provides the technology platform for more than 30 designers' e-commerce sites, including Lanvin, Valentino, Dolce & Gabbana, and the brands in the Kering group. Yoox designs, sets up, and manages operations for these sites, making it a logistical powerhouse. That part of the business accounts for 27.2% of Yoox's revenue, according to its 2014 annual report.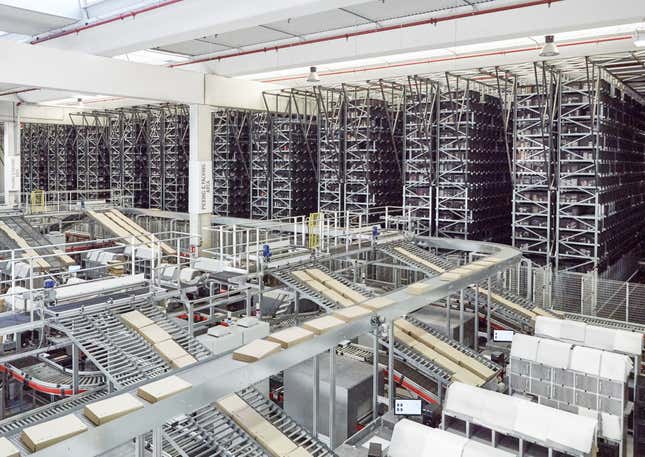 It's not clear whether Net-a-Porter's website will migrate to the Yoox platform, but Yoox's press release notes that part of the strategic rationale for the merger is "One common global technology and logistics platform that will connect all storefronts and distribution centres." (Quartz has reached out to Yoox and Richemont for comment and will update with any response.)
About Net-a-Porter: While Yoox excels at running operations behind the scenes, Net-a-Porter is great at interacting with customers. Its website, which sells women's luxury designer clothing and footwear, is known for its sleek, clean design, and the company also functions as a popular media outlet. It showcases editorial content, including reported features, and puts out a print and digital magazine with worldwide circulation of 152,500.
That's a part of what drew Yoox, founder and CEO Federico Marchetti told the New York Times. "Editorial content has never been our strength or priority at Yoox," he said. "But it is very important for social media, which is driving millennial sales in the e-commerce space."
Between Yoox's operational clout and Net-a-Porter's customer savvy, not to mention the two companies' combined traffic and sales, the Yoox Net-a-Porter Group will be a force to contend with in fashion.