This post has been corrected.
The key to a good April Fool's Day joke, of course, is for people to be unsure, however briefly, whether it's real or not.
So the fact that fashion is so naturally over-the-top—we're looking at you Jeremy Scott, and you, too, Galliano—makes it perfect for duping the unsuspecting. This year's crop of April Fools from fashion brands and fashion news sites have made us question whether they're for real sometimes—but only sometimes, because a few of these are just crazy.
Here are some of our favorites:
North West's Vogue cover: Fashion news site Fashionista.com ran a story about Vogue launching a new child-focused supplement with famous infant North West gracing the inaugural cover. Given that North West's parents, Kanye West and Kim Kardashian, already got a Vogue cover, the story actually seemed to be within the realm of possibility.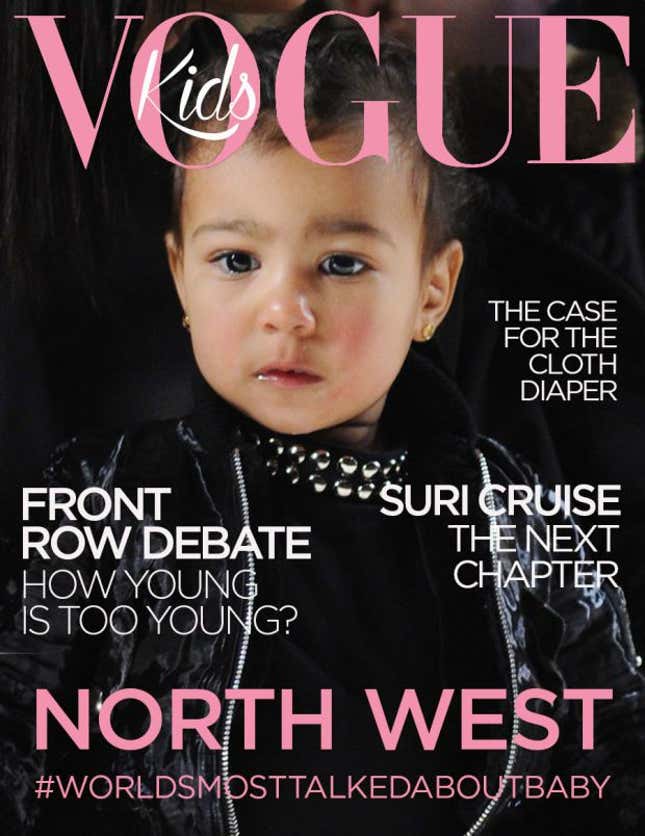 The Kanye-West-designed water bottle: The style website Complex published an "exclusive" featuring a dramatic leaked teaser for what appears to be a water bottle designed by the rapper. The teaser is a montage of water imagery cut in with a picture of a nozzle and what looks to be part of West's nickname, "Yeezy." (Complex also got in a dig at its offshoot site Four Pins in the body text of the email from the purported leaker.)
The clip-on man bun: Capitalizing on the supposedly rising popularity of the "man bun," or top-knot, Asos Australia posted this picture to Twitter of a clip-on bun for guys whose hair isn't long enough to bun up on its own. "Game changer" indeed.
Riccardo Tisci's Nike Air Cast 1: Sneakerfreaker.com posted a "first look" at the new collaboration between Nike and Givenchy creative director Riccardo Tisci, as well as a brief interview with the designer. The result of that collaboration is a cast for injured ankles with styling characteristic of Tisci's previous work for Nike, and a Nike Air sole. "This one will definitely go down in the annals of sneaker history as important for the culture, as the long neglected niche market of short-term foot injury sufferers are finally liberated from their swagless reality thanks to the new Nike Air Cast 1," the site says. (There's probably a market for this, actually.)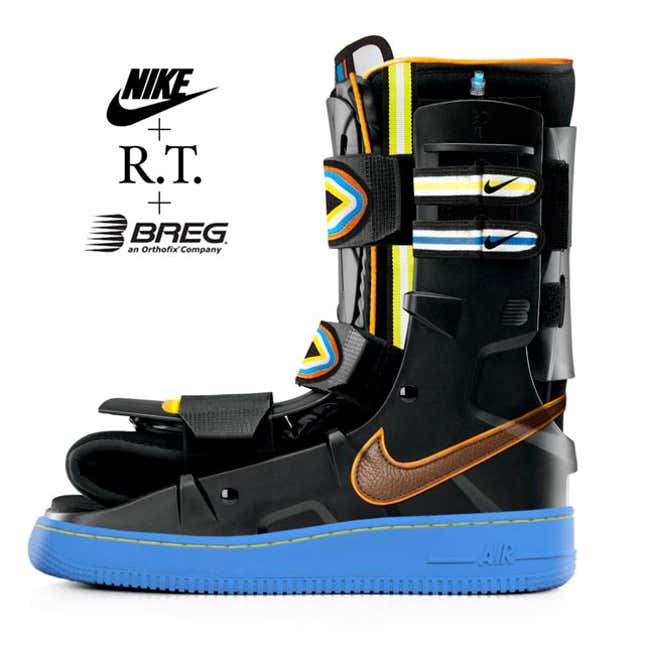 The selfie shoe: Shoe brand Miz Mooz has a solution to all those people for whom a selfie stick is too conspicuous: a square-toed shoe that you can insert your phone into. Just lift up your leg to get yourself in frame and snap the pic with your toe.
Adjustable heel technology: Ted Baker posted an innovative idea to its Instagram: a heel whose height you can control with a smartphone app.
Hunter boots for dogs: For when your pug needs serious footwear for rainy days or muddy outdoor hikes. (There's probably a market for these too.)
Jeremy Piven is Selfridge's new CEO: Fancy department store Selfridge's announced on Twitter that Jeremy Piven, the Entourage star who also plays the store's founder in the PBS show Mister Selfridge, is its new CEO.
Correction (April 1): An earlier version of this post incorrectly stated Four Pins' relationship to Complex.