Earlier this week, Quartz reported on the substantial amount of money flowing from China and Hong Kong through European deals. Since 2000, Chinese and Hong Kong companies have spent nearly $220 billion buying up European companies, with spikes in years when Europe's economy was weak.
Chinese and Hong Kong companies have bought British companies far more than businesses from any other European country, both in terms of the number of deals made and in total value terms, according to data from Dealogic. Since 2000, British targets have accounted for a full 43.2% of all of the money Chinese and Hong Kong companies have spent acquiring European businesses.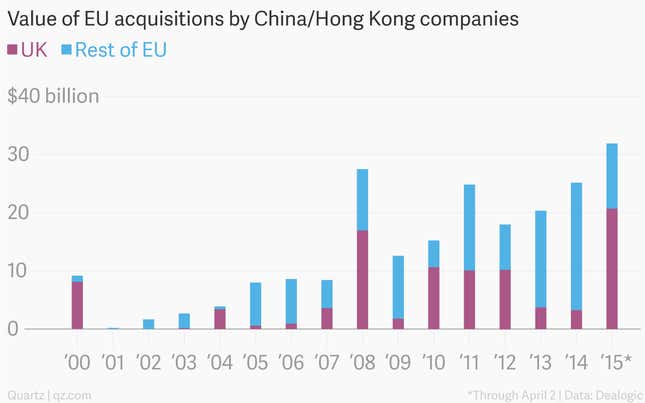 Since 2000, companies in China and Hong Kong have spent a total of $94.2 billion snapping up British companies, compared with $123.8 billion on companies from the rest of Europe.
In six out of the 16 years recorded (including 2015 to date), UK acquisitions have accounted for more than half of all European corporate buy-outs by Chinese and Hong Kong companies.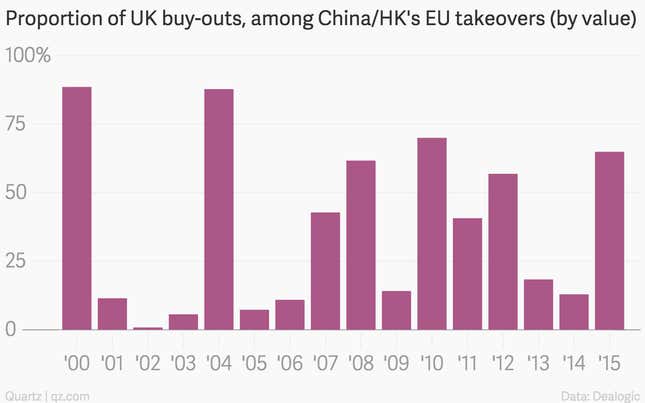 So, where's all this money going? The telecommunication industry has attracted the most spending in the period, boosted by Telefonica's $15.3 billion sale of its British mobile network O2 to Hong Kong's Hutchison Whampoa.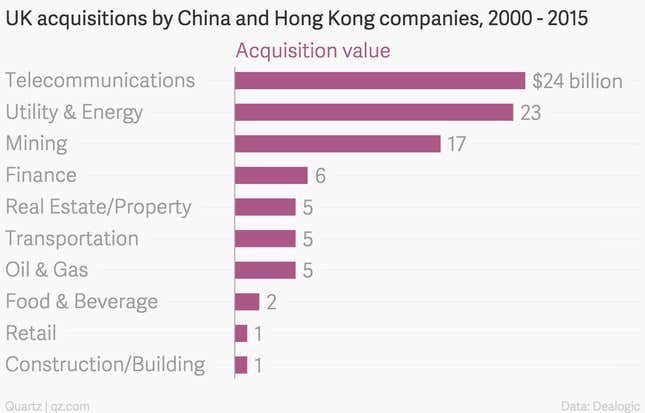 This year has already broken records, with over $20 billion in buyouts by the end of March.
To put that in to context, that's the same figure the British government allocated for "General Government" spending in its 2015-16 budget. If the year continues as it started (which is admittedly unlikely, given the outsized Hutchison-O2 deal), UK acquisitions by Chinese and Hong Kong companies could end up at 130% of the UK's annual defense budget.