Floyd Mayweather Jr.—due to meet Manny Pacquaio in Las Vegas in May in the biggest fight in boxing history—is putting his perfect record on the line. He is currently unbeaten, at 47-0, as a professional fighter. The last time he was beaten was as an amateur during the semi-finals of the 1996 Atlanta Olympics.
The man who beat him was a Bulgarian named Serafim Todorov, and the New York Times has tracked him down to the town of Pazardzhik. Todorov lives in a "modest" flat with his wife, son and pregnant daughter-in-law. He remembers fighting Mayweather, then a gawky 19-year-old, in Atlanta when Todorov was 27 and already a respected three-time world champion and a two-time European champion. He told the Times:
He was 19, remember. My experience was much stronger. I beat all the Russians, all the Cubans, some Americans, Germans, Olympic champions. I was making fun of them in the ring.  I was very smart. I was a very beautiful and attractive fighter to watch. You must be an artist in the ring. I was an artist.
Todorov only trained for three weeks in the run-up to the Olympics and still demolished all his opponents prior to the Mayweather fight, which was his hardest test. It was one that many think he lost—as the result was announced, the referee initially raised Mayweather's arm before realizing his mistake.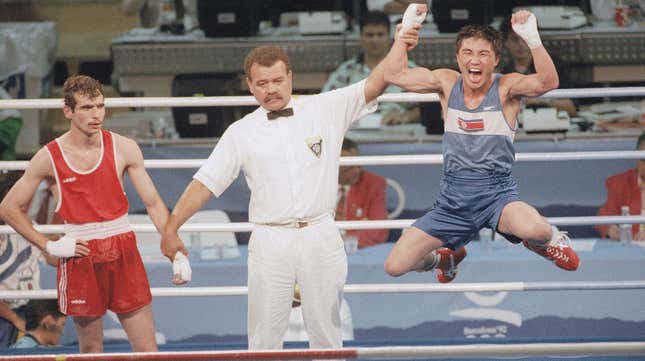 After the fight, both men waited to be tested for drugs. Some promoters approached from the shadows and offered Todorov a contract, then and there, including a signing bonus, a house, a car, and the big fights, according to Todorov. He turned them down. "You know what happened next?" Todorov said. "The two men went over to Floyd and started talking in English."
His opponent that night 19 years ago learned the pro game slowly and then took charge of his own career. Mayweather could make $150 million from one night with Pacquaio. In Bulgaria, Todorov now lives on a pension of €400 ($436) a month. He can't even afford a flat-screen TV.
The Bulgarian was sure that his talents would see him through to a great pro career. But he lost in the final in Atlanta to a Thai opponent in controversial fashion—and drank for two days straight. "I just wanted to drink myself to death," he said. He tried to swap nationalities with Turkey, and Bulgaria blocked him from switching sides. Todorov decided never to box again for Bulgaria, and only fought a handful more times as a pro for the money before ending his career.
It is the tale of many beaten-up journeyman boxers, and like those stories, it could have been very different—if he had taken the offer of the promoters, if he had boxed in more Olympics, if he had tried to capitalize on being the last man to beat Mayweather.
"I wanted to hope that things here could get better," he said. "It was stupid. I came back and I found hell."