When Floyd Mayweather and Manny Pacquiao—the two best boxers, pound-for-pound, in the world—finally fight on May 2 at the MGM Grand in Las Vegas, it will be the most lucrative boxing match ever. The $74 million in ticket sales expected is more than the $60 million that Super Bowl XLIX generated with four times as many seats.
The Mayweather-Pacquiao fight will bring in almost four times the revenue of the next biggest boxing match ever. Here's how its ticket sales stack up against the other most expensive fights in history (many of which also feature Mayweather):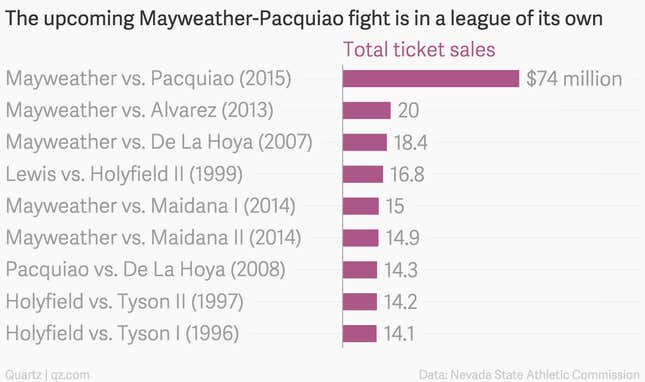 Mayweather-Pacquiao ticket prices range from $1,500 to $10,000, according to ESPN's Dan Rafael, making it easily the most expensive buy in boxing history. (It will also be the most expensive pay-per-view ever, at $100). The bout's average ticket price is an inordinate $4,600, since the MGM Grand can only fit about 16,000 people—tiny compared to the massive University of Phoenix Stadium where the Super Bowl was held, which had an the average ticket price of slightly less than $1,000.
For some historical context, "The Fight of the Century"—Muhammad Ali's 1971 bout with Joe Frazier at Madison Square Garden—made $1.5 million on 20,455 tickets. Ringside seats were $150 (about $870 in today's dollars).
The Mayweather-Pacquiao fight is expected to bring in $500 million in total revenue, which includes concessions, advertising, foreign TV rights, and pay-per-view revenue. It will break essentially every revenue record in existence, but the ticket revenue record is the most staggering. It is, far and away, the priciest boxing match ever, and yet tickets are still almost impossible to come by. Rafael reports that only a handful of the tickets will be available to the general population. The remainder will go to friends of the fighters, their promoters, MGM, and HBO and Showtime, who are simultaneously broadcasting the fight on pay-per-view TV. And, of course, selected celebrities, but they'll have to pay like everyone else.