It's becoming clearer just how bad things are getting in the oil industry.
In the latest release from the US Bureau of Labor Statistics on workforce turnover, the American mining and logging industry, which include oil and gas exploration, laid off 23,000 people in February, following layoffs of a record 30,000 workers in January (the previous high was 24,000 in December of 2000, the year the bureau began recording these).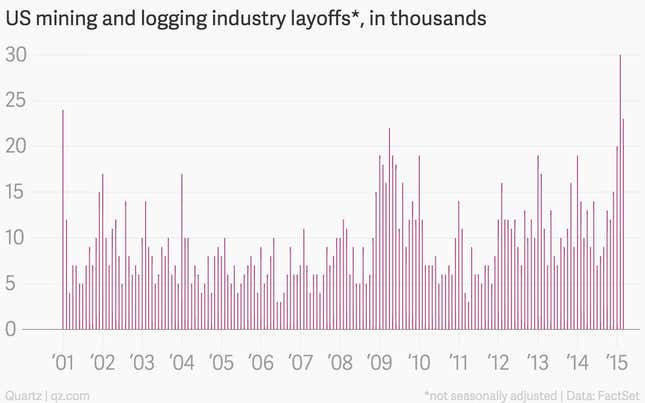 Over the last few months, industry layoffs measured by the BLS have been higher than normal, which may continue going forward. Oil prices fell further and faster during the recession than they did last year, but even when they made their post-recession comeback it took a while for mining and logging layoffs to slow down.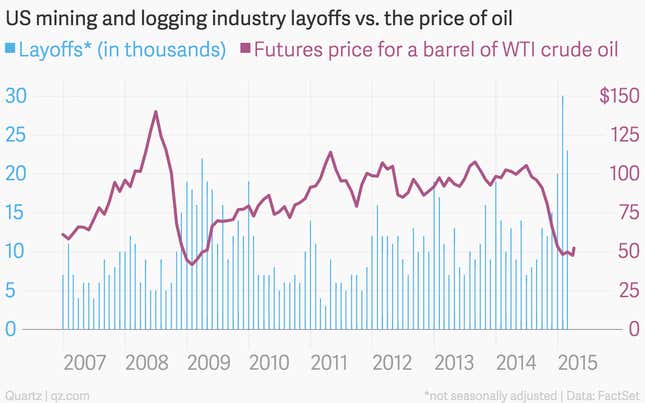 Another proxy for the oil industry's health, the Baker Hughes count of US oil rigs in operation, looks even more worrisome. America's drilling activity has ramped up tremendously over the past decade, as fracking and other techniques made it easier to discover and extract hard-to-reach reserves amid growing global demand. Over the past few months, however, the rig count has dropped off dramatically.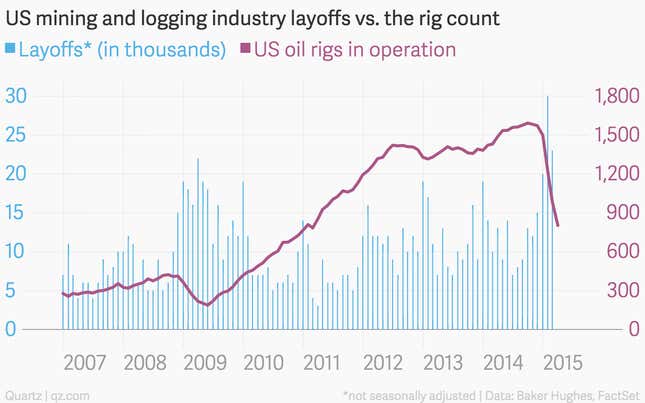 That said, oil and gas extraction jobs, measured separately in the monthly jobs report, have been pretty stable. Considering that oil prices seem to have stabilized and energy company debt is reportedly back in vogue (paywall), this past January may turn out to be a particularly violent but brief hiccup. On the other hand, there is a glut of oil supply, which would only worsen if Iran begins producing and selling oil again on the open market.