As the year comes to a close, expect to see more of this from hedge funds that made the right call buying Greek government debt this year: the Financial Times reports that billionaire investor Dan Loeb's Third Point turned over the bulk of his $1 billion worth of Greek bonds as part of the Greek debt buyback on Monday, taking a $500 million profit. The FT reports:
Third Point began buying up Greek bonds after profiting from a rally in Portuguese debt at the beginning of the year. Analysts from the fund have kept close tabs on Greek politicians and advisers and have been in ongoing discussions with the Greek government.
Here's a look at how much better Greek government debt has done this year, compared to a broad measure of the global bond market, via the Barclays Multiverse index: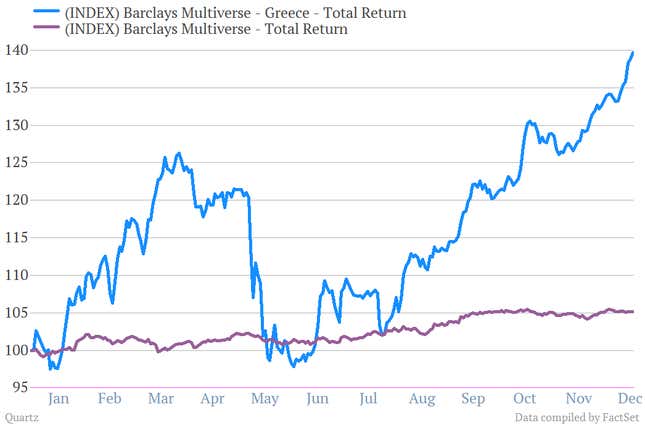 That's a roughly 40% gain in the total return on Greek bonds. (Total return includes interest payments and capital gains.) For what it's worth, Loeb's fund retained a sizable portion of Greek bonds in a bet that the bonds could rally further. And Tuesday's upgrade of Greece's credit rating suggests that sentiment on Greece could indeed continue to improve.