What was otherwise an uneventful contest between two of the NBA's worst teams turned into a historic moment April 7, when the Sacramento Kings' Sim Bhullar became the first person of Indian descent to play in an NBA game.
The 22-year-old Bhullar, who was born in Canada after his parents migrated there from Punjab, India, appeared in the game against the Minnesota Timberwolves for only 16 seconds as the clock wound down in the final quarter.
Still, clearly aware of the moment's significance, Sacramento fans gave him a standing ovation as he made his way onto the floor:
The NBA has over 100 active players from 37 countries other than the US. While basketball is not as popular in India as it is in other Asian countries—particularly China—it's quickly growing in popularity there, as it is in many other countries around the world.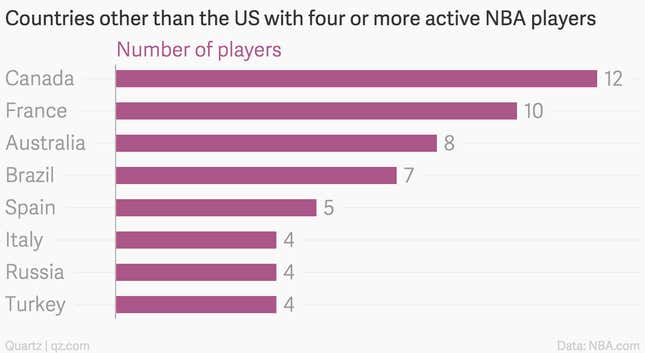 Bhullar, a center who stands at 7 feet 5 inches tall, played college ball at New Mexico State before leaving after his sophomore season to declare for the 2014 NBA Draft. While he was not selected, the Kings signed him to a contract shortly after and placed him with the Reno Bighorns, its NBA Development League affiliate (essentially the Kings' minor league team).
On April 2, the Kings signed him to a 10-day contract, and Tuesday night he finally checked into an NBA game for the first time. Though he didn't register any statistics, he'll likely see some more playing time, with only five games left in the Kings' season and the team long eliminated from playoff contention.
Shortly after the Kings first signed Bhullar last year, the team rolled out a Hindi version of its website. Vivek Ranadivé, the team's owner, also happens to be the first Indian majority owner of an NBA team. Team management has said that it is trying to turn the Kings into "India's home team."
Former NBA commissioner David Stern visited India in 2013 and predicted India would have an NBA player within five years. While Bhullar likely won't be a global superstar, as the Chinese player Yao Ming was, he could be just the ambassador the NBA needs to grow the game in the world's fastest-growing big economy.
"I told him to enjoy the ride," Kings teammate Omri Casspi, himself the first Israeli-born player in NBA, told ESPN. "You got 2 billion Indians looking up to you. Be the best role model you can be, and have fun with it."