Pre-tax profits at the five largest UK-based banks rose by a heady 62% last year. This is all the more impressive considering that the banks' collective revenues fell by 12% during the same period.
Lower loan provisions account for much of the improvement, with cost-cutting programs also playing a part, according to a new analysis of the banks' accounts by KPMG. (The banks included in the study are Barclays, HSBC, Lloyds, RBS, and Standard Chartered.)
But one cost category that isn't falling nearly as fast as the banks would like is legal costs. Last year, Britain's biggest banks were hit with nearly £10 billion ($15 billion) in costs related to litigation, regulation, and customer redress. This was down just 9% on the year before, as the penalties for selling misleading insurance products, manipulating markets, and breaking sanctions slightly let up.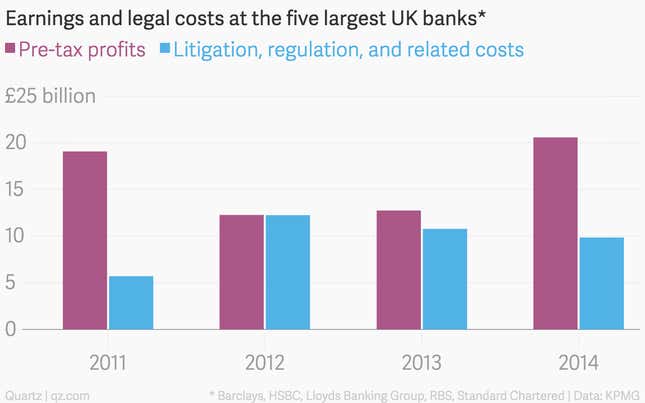 But look on the bright side—last year's legal costs were worth only around half of pre-tax profits. In 2013, these expenses ran to 85% of profits; in 2012, banks' legal entanglements proved as costly as the entire collective profit they made that year. Over the past four years, legal costs at the big banks have run to nearly £40 billion, or around 60% of profits.
Improving profitability will help cushion the blow of future legal troubles at these banks, which show few signs of letting up this year—Barclays is facing a billion-dollar settlement for allegedly rigging currency markets, and HSBC is fighting tax-evasion probes around the world, to name just two of the high-profile cases still in the works.