Apple's next big thing is off to a solid start, according to pre-order projections from Slice Intelligence, a firm that tracks and projects US consumer spending through e-commerce email receipts.
Apple received watch pre-orders from almost one million Americans on Friday, April 10, its first day of accepting orders, according to Slice's projections, based on receipts from 9,080 online shoppers.
Almost two-thirds of pre-orders were for the less expensive, aluminum Sport line, which starts at $349. About one-third of pre-orders were for the stainless-steel Apple Watch collection, which starts at $549. The gold "Edition" series, which starts at $10,000, didn't represent enough US pre-orders to show up in Slice's report.
The average selling price per watch was about $504. The average order was for 1.3 watches, suggesting orders for more than 1 million units.
The most popular color is Apple's "space gray" aluminum case—40% of pre-orders—followed by stainless steel (34%), silver aluminum (23%), and "space black" steel (3%).
The black sport band was the most popular band among all buyers, representing almost half of all orders.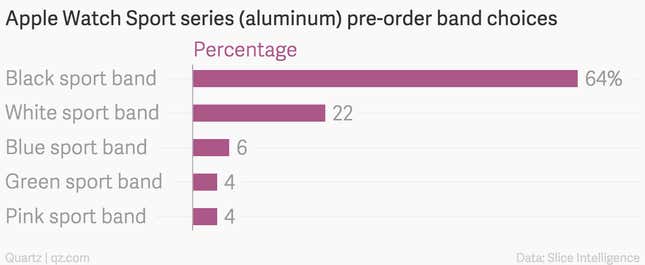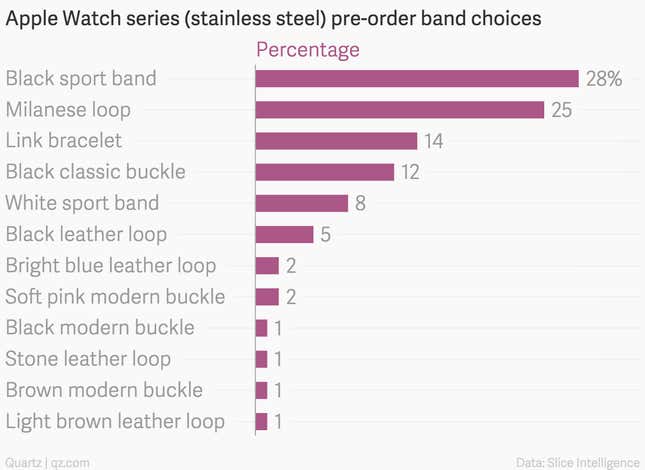 Some 71% of pre-orders were for the larger, 42mm watch size.
Among Apple Watch pre-order customers tracked by Slice, 72% had previously ordered an Apple product in the past two years.
Apple also started selling its new MacBook laptop on April 10. Some 43% of those ordering a MacBook also bought an Apple Watch, according to Slice.
To be sure, this is a projection based on one company's data. (Apple did not immediately respond to a request for comment on its accuracy.) And this only reflects US pre-orders. It's entirely possible—if not likely—that order profiles were different in other countries. Apple has also put itself in the position to reveal very little about watch sales: It has said that it will not report them in quarterly earnings reports as a specific category, but will bundle them in with other products.
Actual Apple Watch sales begin on April 24 in nine countries: Australia, Canada, China, France, Germany, Hong Kong, Japan, the UK, and the US. It's not clear how much inventory Apple will have at its stores. The company has encouraged pre-orders, which seem to have quickly sold out: Availability timing for US pre-orders is now mostly in May or June, depending on the model.