Citigroup named a Scottish-born Asia specialist to head the company's 3,300-branch consumer banking operations, part of an ongoing strategy to focus on lucrative markets and wealthier customers. It also marks a departure from the risky "financial supermarket" model.
Stephen Bird, formerly the bank's chief executive for Asia Pacific, joined the bank in Singapore in 1998, and has served as the head of consumer operations in Asia and head of credit card lending in Japan, among other roles. Last year, Citi said it would pare down its consumer business to 24 markets, concentrate in the US on branches in just seven large cities, and continue to cater to Asia's fast-growing affluent consumers.

"Asia is playing an important role in the transformation of Citi globally to a stronger company," Bird told Finance Asia earlier this year.
In his new job, Bird will be in charge of a division that earned over half of the bank's pre-tax profit in 2014 and holds $331 billion in deposits and $298 billion in loans. North America is the bank's largest region by revenue, but Asia brought in 22% of the bank's total earnings in 2014, as Bird noted in a presentation (pdf) last year.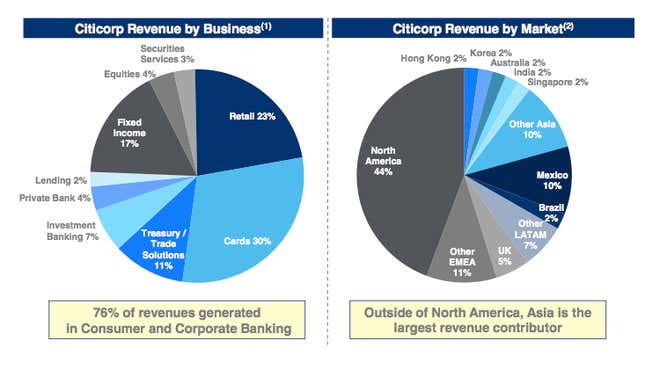 Citi's revenues in Asia were $13.7 billion in 2014. The region's net income increased from about $1 billion a year to $1 billion a quarter since Bird joined the bank, a spokesman said, thanks to a series of transactions and joint ventures, including the 2007 acquisition of the Bank of Overseas Chinese in Taiwan and a partnership with Orient Securities to offer investment-banking services in China. Under Bird, Citi introduced "Smart Banking" branches throughout Asia that feature "interactive media walls, information browsers, and computer kiosks," as well as branch staff.
"Of the 24 countries that we're now in for consumer, half of them are in Asia," Bird told the Wall Street Journal today (paywall), saying he pledges to stay "very focused" on growing business in the region.