It was only six months ago that Slack joined the billion-dollar startup club. Today, the chat app for offices confirmed an additional $160 million in funding, more than doubling its worth to $2.8 billion. To put this growth in further context: Just a year ago, investors had valued Slack at $43 million.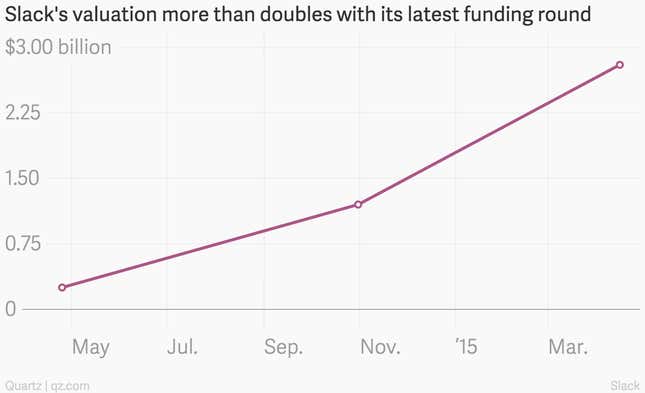 One of the main reasons investors have been so enthusiastic about Slack is because of its rapid growth, and its customer list, which includes Apple, Google, and Amazon (and, in full disclosure, Quartz). Index Ventures partner Mike Volpi, who as part of this round joined Slack's board as an observer (the designation is a quirk of the venture capital business), said in a statement that the startup has "reached a level of early traction that's rarely seen on the enterprise side."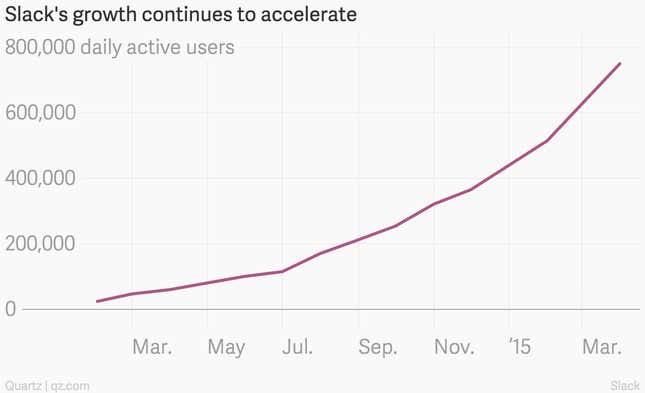 Slack now touts 750,000 daily active users—200,000 of them paid users—a 50% jump from the numbers it announced in February, when it celebrated its first birthday. Interestingly, the growth has been fueled largely by Mac users, who make up 70% of Slack's user base. Unlike traditional enterprise-software companies, Slack focused first on building its Mac application, and only released its Windows version last month.
The numbers also show that Slack's customers weren't fazed by a security breach discovered in March, when hackers accessed a database containing user names, encrypted passwords, email addresses, and other contact information, but not chat logs or financial information.