In Washington DC tomorrow, representatives from Comcast will meet (paywall) with officials from the US Department of Justice (DoJ) to discuss the giant cable company's $42.5 billion bid for its smaller peer, Time Warner Cable.
It's a regular meeting that was scheduled some time ago, people familiar with the talks insist, but multiple reports that the agency is seriously concerned  (paywall) about the deal surfaced last week, and they have ramped up speculation about the get-together.
The proposed marriage of America's biggest and second biggest cable companies has always been contentious, but the potential intervention by the Justice Department has surprised many.
Big media mergers in the US need the blessing of two government agencies—the Federal Communications Commission (FCC) which regulates the media and telecom industries, and the DoJ, whose purview includes competition (antitrust) laws.
The FCC review, which must take into account the "public interest" has always been considered finely balanced. It has been paused twice, and political pressure is mounting. Today six liberal Democratic senators urged the FCC to block the deal.
The DoJ review was considered less risky, because it largely considers competition issues—and as Comcast and Time Warner Cable like to point out, they don't actually compete directly against each other, geographically:
Paul de Sa, an analyst from Bernstein Research (who used to work at the FCC) produced this graphic outlining the potential paths forward from here: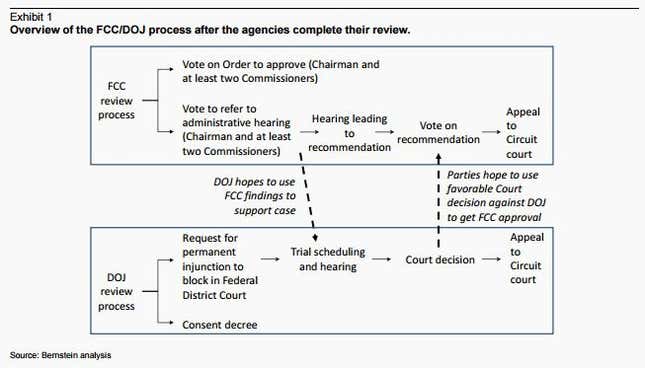 Setting aside the FCC review for now, the DoJ has basically two options: If it really wants to block this merger, it will need to file an anti-trust lawsuit against it, and the burden of proof will be on it—not the cable companies—to prove that the deal violates competition laws.
Alternatively, it could propose a "consent decree," basically a settlement that would bind Comcast to certain concessions in order for the deal to be waved through.
There is already speculation the DoJ could try to extend provisions put in place when Comcast bought NBC Universal, or to force it to adopt net neutrality principles, which recently became law (but are being challenged in the courts by a coalition of cable companies, including Comcast).
Whether Comcast would agree to such conditions is impossible to tell. But, unusually, there is no "break fee" in the merger agreement, so Comcast could walk away without penalty if it has had enough.
Domino effect
Neither Comcast nor Time Warner Cable's share price has collapsed since the latest reports surfaced, suggesting that Wall Street still leans toward expecting that the deal will be approved.
But for the sake of argument, let's assume that for whatever reason, it isn't. The ramifications could be far-reaching:
In short, there could be many more twists and turns ahead in this saga.