The numbers: Grim. Sales were $5.9 billion in the first quarter, down 11% from the same quarter last year.  Guest traffic was down in all major segments. Global same store sales decreased 2.3%, with the biggest declines coming in Asia, the Middle East, and Africa (8.3%) and in the US (2.6%). Operating income was down 28% year over year, which includes nearly $200 million in charges from restaurant closures and other restructuring.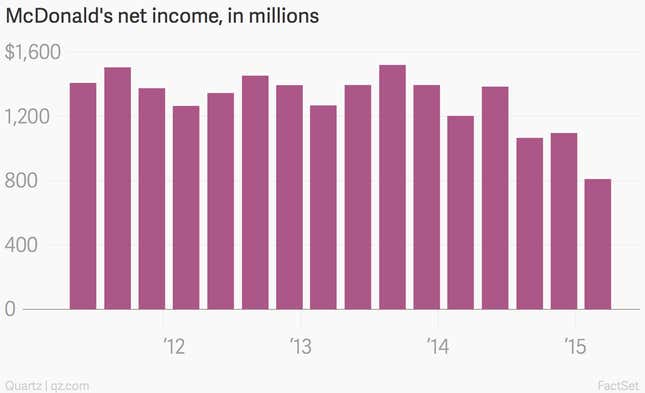 The takeaway:  The company's turnaround plan goes beyond new initiatives like burger customization, simplifying menus, and cutting back on antibiotics in chicken. It's also more aggressively closing underperforming restaurants. The company closed 220 restaurants during the quarter, mostly in the US and China. McDonald's Japan closed 130. Those closures were on top of an already planned 350 shutdowns worldwide, according to the company's earnings release. Store closures in China, a big growth market for the company, suggest the company has bigger problems than its expired meat scandal.
What's interesting: Overall spending at restaurants has risen significantly in McDonald's crucial US market; American consumers spent more money on eating out than at traditional grocery stores for the first time since the US government started releasing that data. But McDonald's isn't benefitting—as its stores close, fast casual rivals in the burger space are booming.