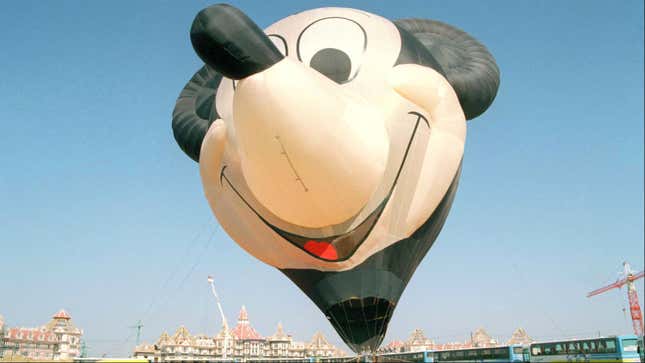 Add Euro Disney to the list of euro zone bailouts. The long-suffering theme park near Paris will get a €1.3 billion euro ($1.7 billion) loan from its majority shareholder, the Walt Disney Company in California. Europe's biggest amusement park is drowning in debt and struggling to stay afloat.
In March, revenue for the first six months was down 1%, and net losses increased 22% to €100.8 million. The park sees more than 15 million visitors a year, but the economic crisis has kept people home.
Numbers picked up over the summer, which improved June results. But the company's biggest problem is its massive debt that by the end of September will total €1.7 billion. It's been a difficult 20th anniversary year for Mickey and the Paris gang.
In truth, it's been a difficult 20 years for the theme park's owners, Euro Disney SCA, a public company traded on the Euronext exchange. From the park's opening in 1992, it's been mired in controversy. French intellectuals accused the company of cultural imperialism and labor unions protested restrictions on makeup, facial hair, and jewelry.
Over the years there have been strikes by staff dressed in their Disney character uniforms (a first), suicides (blamed on the company's humiliating working conditions), and disappointing returns.
Time reported that Walt Disney will refinance debt held by a syndicate of banks, in particular Caisse des Dépôts et Consignations. Talk earlier this summer of a takeover by Walt Disney, which owns a 39.8% stake, bumped up the stock but never materialized.