"All things are poison and nothing is without poison; only the dose makes a thing not a poison," said the Swiss-German physician Paracelsus in the 15th century. Since the discovery of radiation—that all-too-powerful poison—Paracelsus' principle has been applied for more than 100 years in treating cancer. Now 21st-century technology is enhancing its use, especially for those with prostate cancer.
The trouble with radiation therapy is that it does not discriminate between healthy and cancerous cells. Thus, for tumors that are deep inside the body, radiation therapy often yields poor results. So, for many decades, cancer research has been focused on finding more selective treatments.
However, brachytherapy, a form of radiation therapy, is becoming a popular option for easy-to-reach cancers, such as those affecting the cervix, prostate, breast, or skin. Brachy is Greek for short distance, and thus the treatment deploys radiation sources close to the site of the tumor. The global market for brachytherapy was estimated at $680 million in 2013 and is set to rise to $2.4 billion by 2020, according to an industry analysis by MEDraysintell.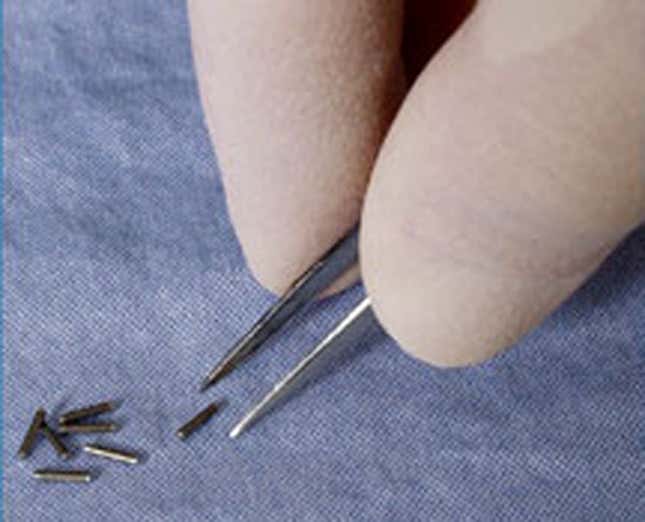 At a meeting of the European Society for Radiotherapy and Oncology currently being held in Spain, researchers from the Vancouver Cancer Centre reported that patients undergoing low-dose-rate prostate brachytherapy via implanted radioactive "seeds" survive twice as long as those undergoing conventional high-dose radiotherapy. The study involved 398 men who were diagnosed with cancer that had not spread beyond the prostate gland, but who were judged to be at risk of failing to respond to treatments.
Prostate cancer is the most common cancer affecting men, developing primarily in those over the age of 50. In 2012 there were 1.1 million reported cases with 307,000 deaths worldwide, and any improvement in treatment is bound to improve many lives. Brachytherapy is a highly cost-effective method, even though it requires long training and much experience to produce consistent results, according to James Morris, who led the Vancouver study.
Even with brachytherapy, though, there is room for improvement. Because the tumor is close to the radiation source, the dosage used is lower and thus the side-effects for healthy tissue aren't as bad. Still, implanted seeds release radiation in all directions.
A simple solution to minimize side-effects has been developed by researchers at Louisiana Tech University and University of Mississippi Medical Center. They created customizable 3D-printed shields for the low-dose-rate radioactive seeds used in prostate brachytherapy. The shields were made using a combination of plastic-forming raw material and barium sulphate, a chemical that is compatible with the human body's innards but also effective in stopping radiation.
They tested varying amounts of barium sulphate in shields for three types of seeds that used one of the radioactive isotopes iodine-125, cesium-131, or palladium-103. The shield with the most barium sulphate, about 25% of the shield by weight, gave the most protective effect. Reduction in radiation from the seeds was measured at between 76% and 93%.
To be sure, the Canadian study with radioactive seeds is promising but involves only a small number of participants. And, similarly, the US study is still only proof-of-concept yet to be tested in humans. But for people with prostate cancer, brachytherapy research seems to be pointing in a positive direction.