The proportion of law school graduates who have a full-time, long-term job that uses their degree is up a this year, according to data compiled by the American Bar Association from what the schools reported. It's 71.09%, compared to 67.12% last year.
What's driving the trend? Several years of poor employment prospects and salaries seem to have finally convinced some people not to go to law school at all.
The actual number of jobs is actually slightly down from last year (31,160 compared to 31,396) but there were nearly 3,000 fewer new lawyers competing for them. If this is an ongoing trend, it might be a step towards correcting an over-saturated legal market. If it's just a fluke, expect employment statistics to go back down: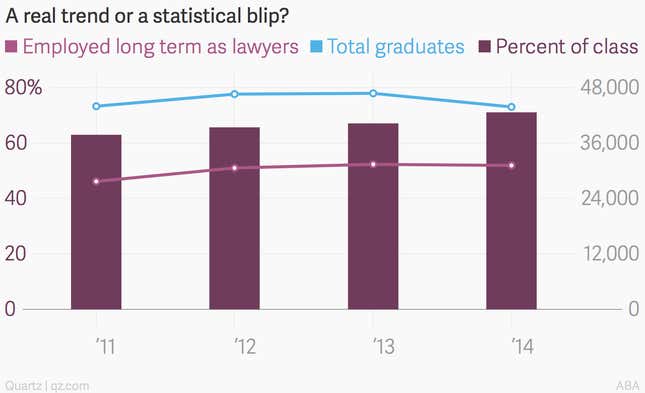 One aspect of the new data doesn't bode particularly well for the long-term prospects of law school graduates: A good portion of the gains this year came from jobs where a JD is "preferred," but where passing the bar isn't required. Those jobs frequently pay much less.
A recent study of the law school class of 2010 in Ohio found that they had barely made any career progress after five years, and had a particularly tough time getting stable, decently paying jobs at the private firms that have traditionally been the biggest source of legal employment.