Baofeng Technologies is China's best performing stock this year. Since its IPO on the Shenzhen stock exchange, its share price has gone up every day by the exact same amount, 10%, the maximum increase allowed by China's exchanges, the FT points out (paywall). The company, which is a manufacturer of virtual reality headsets, is now worth more than 13.37 billion yuan (about $215 million) after barely a month on the market. It only raised 214 million yuan at a market cap of 856 million yuan when it first went public.
The result is a truly bizarre stock chart: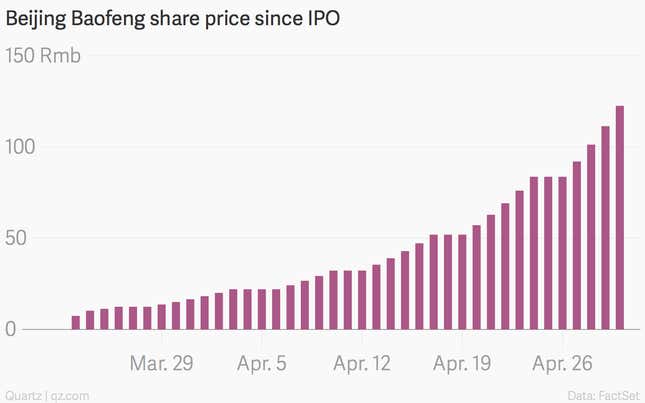 This likely has more to do with bad market structure than Baofeng being some kind of wonder stock.
Baofeng is not alone. All 29 Shanghai and Shenzhen companies that went public in April have risen by the maximum amount since they listed. It's pretty worrisome, indicating that investors aren't terribly discriminating about what they're investing in, that demand for Chinese shares is far outstripping supply, and that there's potentially a bubble in the Chinese stock market.
Either that, or bankers are deliberately underpinning the IPO stock price to try to produce a very strange version of an IPO pop. That wouldn't bode well for the companies: At this point, as Matt Levine points out at Bloomberg, Baofeng has left three times its initial market cap on the table. That's fantastic for investors who get in early, but doesn't make much sense as a fundraising strategy for the company itself.
The incredible growth in the company's stock price seems somewhat out of step with its prospects and product. The company makes a $15 dollar virtual reality headset that creates an Imax-like experience for consumers. It's a promising field, and the company's product on the market has decent reviews, but aside from having gone public earlier with a higher initial market cap, there's little reason for the company to have outperformed all other Chinese stocks this year.
The company's management team has warned (paywall) investors to "invest rationally and pay attention to risks." Needless to say, the warning hasn't stuck.