Circa, the clever smartphone news app, failed to live up to its promises. Its impending buy-out stems from the inherent weakness of the smartphone advertising market, from Circa's inability to catch up with evolving reading habits, and from an insufficient editorial proposition.
In mid-2013, many were praising Circa. The app was kind of unique at the time (see this Monday Note about it); it was built on a clever news flow rearrangement, truncated for faster reading; quotes were pulled out, sources listed apart in a precise manner. Circa gave readers the ability to follow-up on a story, a convenient feature no one else offered then. The whole process was manually operated by a tiny newsroom whose job was (and still is) to repackage others' information, creating about 30-40 pieces a day and updating two to three times as much. Over the last two years, Circa grew to about 20 people.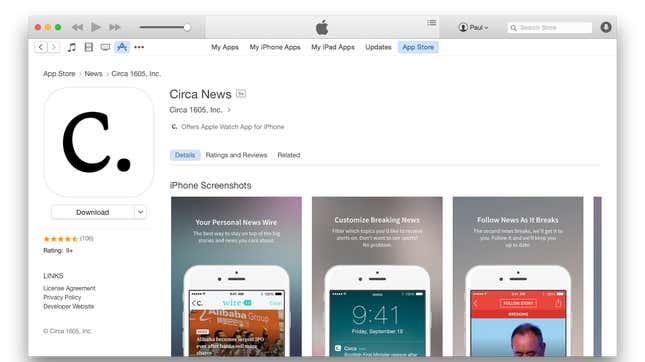 The concept's novelty attracted about $5.7 million from angel investors. By the end of last year, Ken Doctor reported that Circa was seeking another $8 million to support its development. And last week, Fortune's Dan Primack revealed that Circa no longer sought capital but a buyer instead. (See also Joshua Benton's piece on NielmanLab.)
Unlike many, including prominent industry figures I talked to at the time, I won't bash today what I praised two years ago. Rafat Ali, the founder of Skift (a great travel industry site), triggered a solid tweet storm deriding Circa's enthusiastic reviews as yet another bout of media business navel-gazing. While Rafat is right about the industry's propensity to lionize apps and services hopelessly bereft of any business model, Circa was a tiny fish compared to billion-plus "unicorns"—ones that contribute to what many see as a content bubble (more in an upcoming Monday Note). As an innovation in the mobile news consumption field, Circa was interesting to analyze—and worthy of support.
Two years later, I see three factors contributing to Circa's failure. What make these worth a close look is that they could impact more companies.
1. The dysfunctional mobile ad market
Last week, at the FT Media conference in London, many speakers were defending their mobile activity as doing "just fine," sounding like they were just off their second bout of chemo. Everyone was short on specifics, but a consensus estimate left the audience with an unpleasant discrepancy between traffic and revenue: while more than 50% of traffic has migrated to mobile, the share of mobile revenue is in the low 30% at best.
Consider this chart based on figures from the Pew Research State of the News Media 2015 report: It shows the size of the digital ad market, the share of mobile, and the crushing dominance of a handful of players: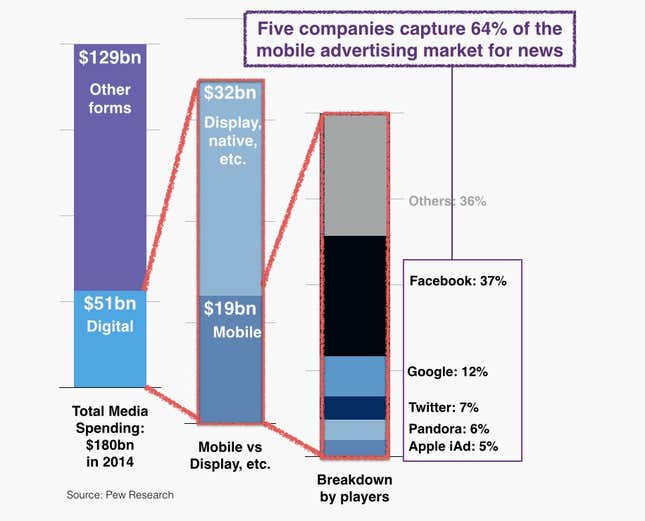 We see almost two-thirds of mobile ads controlled by five major tech companies, the largest one being Facebook, with 70% of its ad revenue coming from mobile. Put another way, aside from big tech companies, very few media outlets are able to pull significant revenue from mobile. One of the reasons for this is the reliance on data that favors Facebook's and Google's profiling capabilities; the other is the challenge in devising ad formats that audiences accept.
2. News audiences are shifting to mobile
The last two years have seen a dominant part of newspapers' online readership embracing mobile use. The younger the user base is, the likelier it is to consume news on a smartphone.
Again, according to Pew Research:
For 19 of the top 25 newspaper sites and associated apps in overall traffic, mobile traffic exceeded desktop by at least 10%. For five of the 25, the split was about equal (i.e., less than a 10% difference between the two), and for just one—the Houston Chronicle—desktop traffic still accounted for more visits than mobile.
Below is a chart detailing what share of American newspapers' readership is via mobile: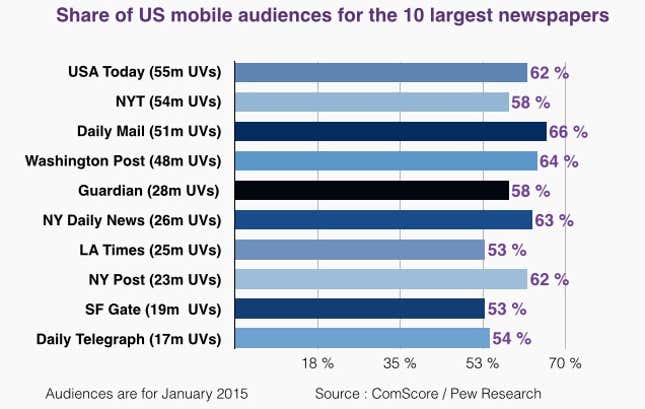 This trend's acceleration is recent. When Circa hit the app store in spring 2013, the titles above were still focusing most of their digital efforts on the web. Consequently, Circa's agile rearrangement of content was seen as innovative. Six months after a New York Times exec told me how interested he was in Circa (I suspect the NYT had considered buying it), the NYT Now app launched—and it didn't work as expected either. Over the last 24 months, many news organizations have beefed up their mobile presence, deploying substantial editorial and technical resources in the process.
At the same time, native digital players raced to catch the mobile wave, devising new audience strategies on social networks. As a result, they became even more dependent on mobile than online newspapers, by about ten percentage points :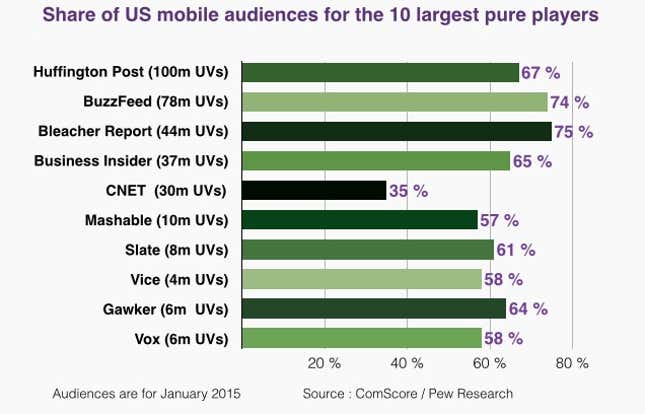 Pew's remarks on this trend:
39 of the top 50 news sites and associated apps had more mobile visitors than desktop in the time period studied. In addition, four had roughly similar amounts of mobile and desktop traffic, and seven had more desktop traffic than mobile.
To sum up this second factor: The combination of newspapers' mobile strategies coupled with pure players betting massively on social (itself largely powered by smartphone use) has made Circa's magic formula increasingly irrelevant. Especially as their interface evolved way too slowly—due to a lack of capital, mostly. By contrast, a new app created by deep-pocketed Al Jazeera, called AJ+, took off, boosted by a combo of social and video.
3. Editorial uniqueness remains a key success factor
And Circa didn't have it. Great packaging is one thing, but it can't support itself without the help of original, specific, identifiable editorial. Since its inception, the web has been plagued by the commoditization of information. As social vastly amplifies that trend, being able to develop its own editorial identity remains critical for any media. Recent successes (such as Quartz) [Editor's note: this commentary was not edited or commissioned by Quartz, but is republished here weekly, with permission of the author.], prove that a contemporary digital strategy must rely on two pillars: One is social amplification to create brand awareness, reach a critical mass of users, and spare most of the marketing expenditures usually required to build a news brand. The other pillar is editorial specificity, buttressed by all the components of quality journalism: the angle of coverage, the line-up of great intellectual resources, experience, knowledge, etc. More than ever, these ingredients are irreplaceable when striving to rise above the internet's deafening background noise.
This post originally appeared at Monday Note.