After 20 years at the helm of networking giant Cisco Systems, John Chambers announced plans to step down today. He will be succeeded by Chuck Robbins (paywall), Cisco's senior vice president of worldwide operations as of July 26.
Chambers manned the helm at Cisco through some pretty incredible volatility, and became one of Silicon Valley's longest-serving CEOs in the process.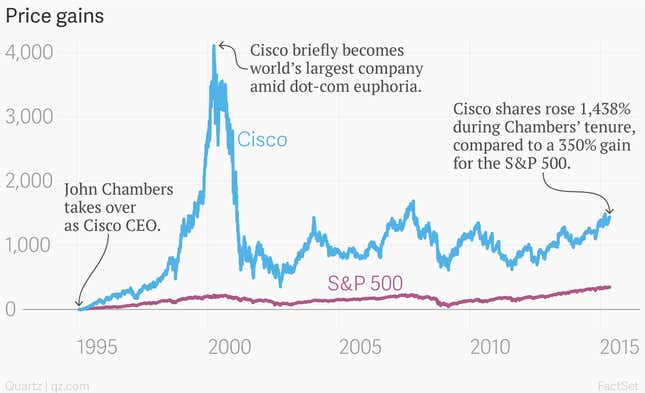 In early 2000, Cisco briefly became the world's largest company, overtaking Microsoft in the heat of the dotcom bubble. Perhaps more impressive was Chambers' ability to survive the rout that hammered Cisco and the entire technology complex in the subsequent years.
All told, Cisco's shares rose more than 1,400% under Chambers, compared to a rise of more than 350% for the S&P 500. (The tech-ier Nasdaq Composite is up more than 550% over the same stretch.) Does that mean Chambers was a successful CEO?
Alas, it's tremendously difficult to tell. Beginnings and endings matter enormously if you're looking at stock performance. Stripping out the dotcom years and looking just over the last 10 years, the Nasdaq has posted a rise of more than 150%, trouncing Cisco's increase of roughly 65%.
But more to the point, it's impossible to know how much of a company's performance is directly attributable to its chief executive, rather than its staff, the industry it's in, or the overall performance of the economy during the leader's stint in the corner office.
Still, to the extent that longevity counts for something, you've got to tip your cap to Chambers.