Activist investor Carl Icahn compared Apple to Secretariat, the American racehorse and US Triple Crown winner, saying a company as promising as Apple only comes around once every 50 years.
"As much Apple [stock] as I bought, I should have bought more," Icahn told SkyBridge Capital founder Anthony Scaramucci May 3 on Wall Street Week, an iconic finance television program that aired on PBS from 1970 until 2005 and was recently revived by Scaramucci.
"I feel so secure with Apple that if it goes down, I just buy more, I don't worry," Icahn said on the show, explaining that "you're not going to find a better guy" to run Apple than Tim Cook.
The saccharine niceties come after a public battle by Icahn last year to cajole the iPhone maker to buy back more Apple shares intended to drive up the stock price of the world's most valuable company.
And of course, it's pretty easy to gush over a company that's making you loads of money—Apples shares have risen more than 90% since Icahn made his stake in Apple public back in August 2013. In February, he said he owned about 53 million shares worth $6.5 billion and hadn't sold a single share.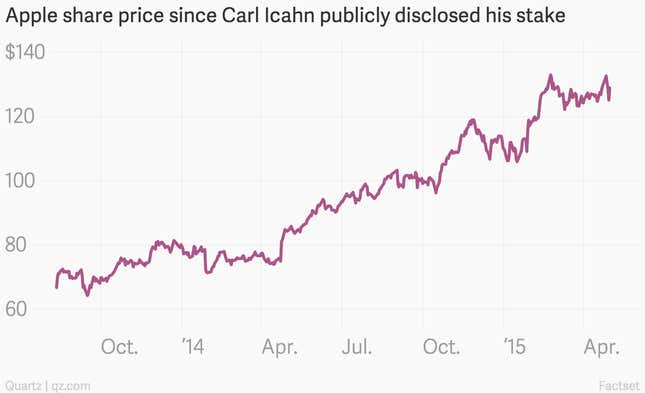 As for all the other investors out there, Icahn said he "feels very bad for the public."
He said his portfolio is very hedged in the case of a stock market correction or another economic downturn. However, he is "very concerned" for ordinary investors who are turned off by low interest rates and are chasing high yields in more risky investments like junk bonds.
"The public sees all these high-yield funds and think bonds will go up, but when they go down there's going to be a great run for the exits," he said. He doesn't expect a re-run of the 2008 financial collapse but noted that he worries about a potential crash in certain sectors.