If you've been reading recent headlines, you'd be forgiven for thinking that McDonald's was on its last dollar. Sales are falling, employees are protesting, and the restaurant's recently revealed turnaround plan sent shares down instead of up.
But before you mourn (or celebrate) the crumbling of the Golden Arches, consider this chart: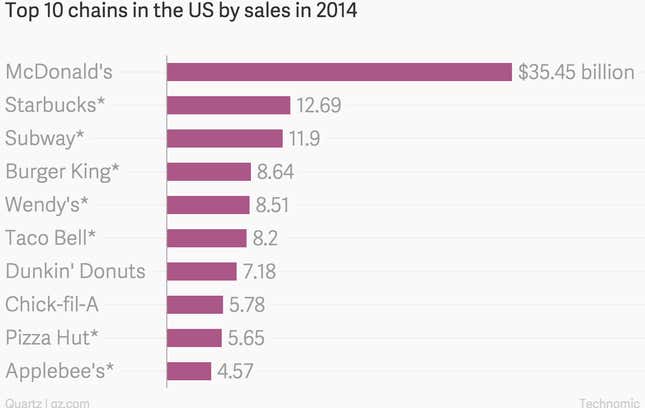 McDonald's is still the clear winner when it comes to US restaurant chain sales. For all of its woes, it rings up nearly three times the revenue than the runner-up, Starbucks, and more than three times the revenue of Subway, the next fast-food chain on the list. Chipotle, the Mexican chain that once belonged to McDonald's, and now serves as shorthand for every trend that its former parent has failed to keep up with, doesn't even make the top 10. While it's growing at a pace that makes McDonald's look flat-footed by comparison, Chipotle is only 15th on the list, with about $4 billion in US sales—about one-ninth of what McDonald's brings in.
McDonald's isn't even the fast-food restaurant suffering the biggest sales decline. Subway wins on that front, with a 3.3% sales drop from 2013 to 2014, compared with Mickey D's 1.1% slip.
(* indicates Technomic estimate)