May in New York City is glorious: another hellish winter has melted away, tulips bloom in the city's parks, and the Mister Softee truck emerges from hibernation. For the fashion set, the season is marked by the Met Gala, which opens the spring fashion exhibit at the Metropolitan Museum of Art.
The gala is not only New York's most lucrative fundraiser for the arts, it is the single most spectacular red carpet for fashion: a Vogue-sanctioned theme party, where the guests have vast resources and access to the world's biggest fashion designers.
Despite the omnipresence of Vogue editor-in-chief Anna Wintour—the event's hostess and mastermind—people still occasionally misstep in their efforts to out-dress one another at the gala. Usually they embarrass only the fashion police, and maybe themselves. Sometimes, they're even invited back.
I applaud these high-risk dressers. After all, this is a party for a fashion exhibit, and as Wintour herself has admitted, the typical awards show parade of safe, strapless, mermaid-skirted gowns has become a total snooze. At the Met Gala, it's go big or go home, and make no mistake, you will be judged for your efforts.
That's probably why this year's theme—the influence of Chinese art on western fashion designers—raised a red flag (no pun intended) for politically sensitive spectators. This carpet, they cried, would be a minefield for hideous cultural stereotypes, misinterpretation, and accidental racism. Their concerns were well-founded, but they also made me fear just the opposite: that the guests would be cowed into total safety, integrating the odd bit of red or embroidered silk, tip-toeing past the theme, and up the steps to the Met.
Not so!
What they did instead ranged from an on-target imperial yellow robe (Rihanna) to inexplicable levels of ass-baring (J.Lo, then Beyoncé). It may have been a high-risk theme, but the rewards were nothing short of glorious.
Rihanna wore imperial—or egg yolk—yellow, depending on how you look at it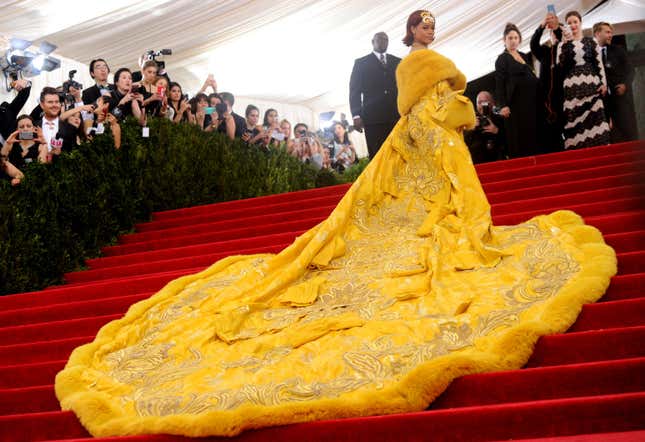 Rihanna wore a fur-trimmed robe by the Beijing-based Chinese couturier Guo Pei, whose work is also part of the Met's exhibition. Guo's studio reportedly has more than 300 embroiderers, and it appears all of them were probably busy on this thing, which apparently required four train handlers. We're not sure what she's wearing underneath or what happened to her arms, but who cares?
Also, the color.
It made some people think of eggs and pizza (get a snack), and others of the Chinese empire "waaaaaaay back in the day." That's imperial yellow (not to be confused with "Minion Yellow"), a shade that has plenty of representation inside the exhibit, including the last emperor of China, Pu Yi's, embroidered robe, which is way smaller than Rihanna's.
(Kristen Wiig looked beautiful in yellow too.)
Sarah Jessica Parker looked like a Beijing Olympics mascot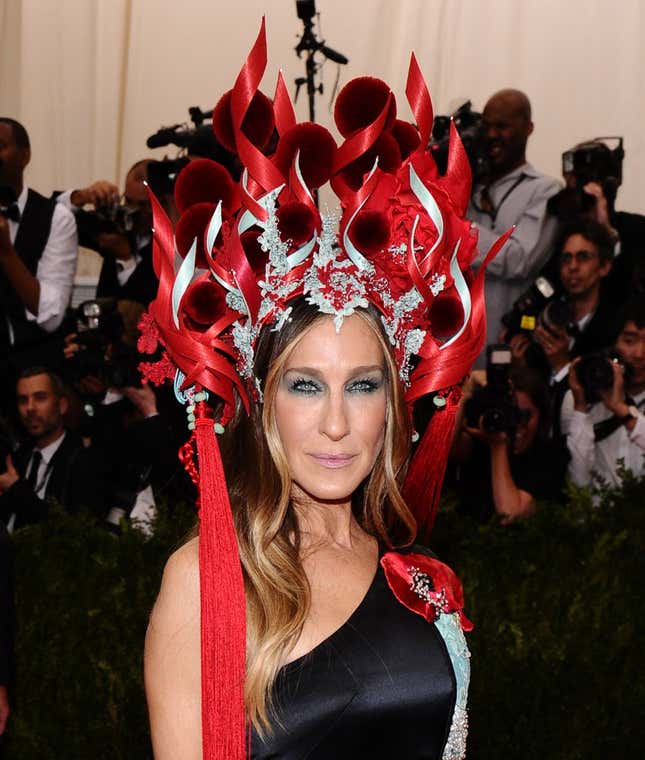 Sarah Jessica Parker has deftly donned an absurd headpiece before, and tonight she did not disappoint in a Philip Treacy-designed tasseled topper that recalled the flame-headed fuwa mascot of the 2008 Beijing Olympics.
Refinery29 reports that Weibo approves.
Beyoncé's naked body stole the spotlight from Kim Kardashian and J.Lo's butts
This has absolutely nothing to do with the evening's theme, as far as I can tell, but it must be mentioned.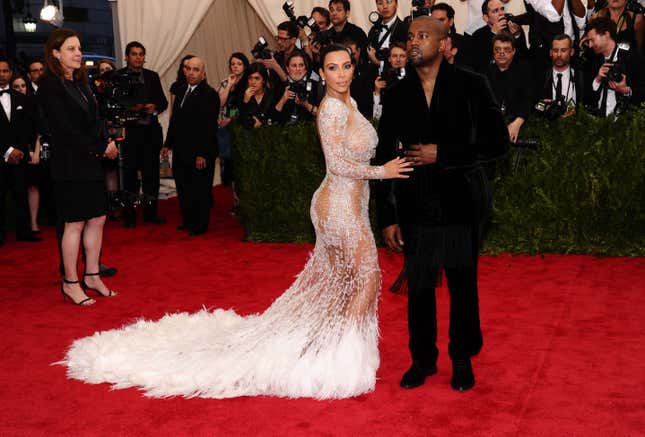 Kim Kardashian's Roberto Cavalli dress was frankly boring—we've seen so much of her now, and her dress' curve-hugging, floor-pooling, sheer skirt with strategically placed appliqués looked startlingly like the Givenchy gown Beyoncé wore in 2012. (I didn't even know I remembered that dress until I saw Kim tonight.) Next.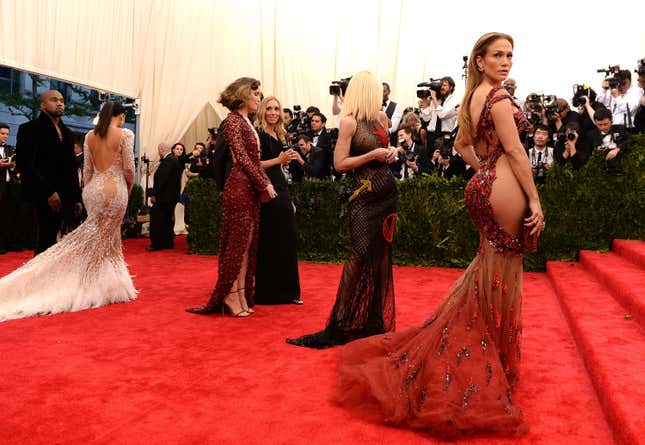 J.Lo, you may remember, is the reason that Google Image search exists, and the way she looked tonight will be the reason that "J.Lo, met gala, sidebutt" search exists. I was about to tweet about this when Beyoncé—who has made a thing of arriving last to the gala—appeared, and the collective scream on the carpet echoed across social media.
If J.Lo's game is baring her superhuman body and aging backwards, Beyoncé went ahead and beat her at it, in this barely-existent bejeweled body stocking of a Givenchy dress.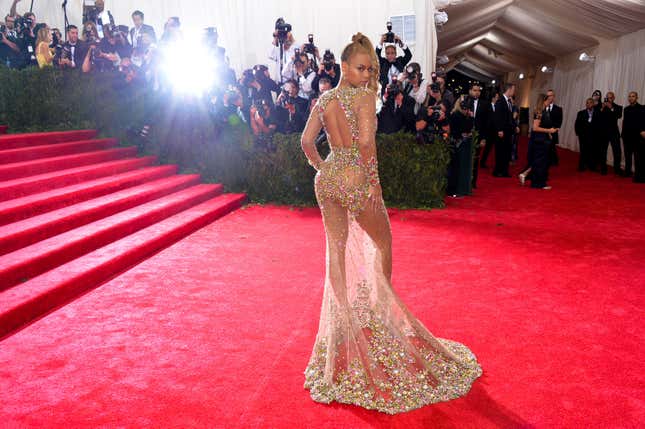 And then she gloated about it on Instagram, which one can hardly blame her for.
Solange Knowles went as "the looking glass" of the exhibit's theme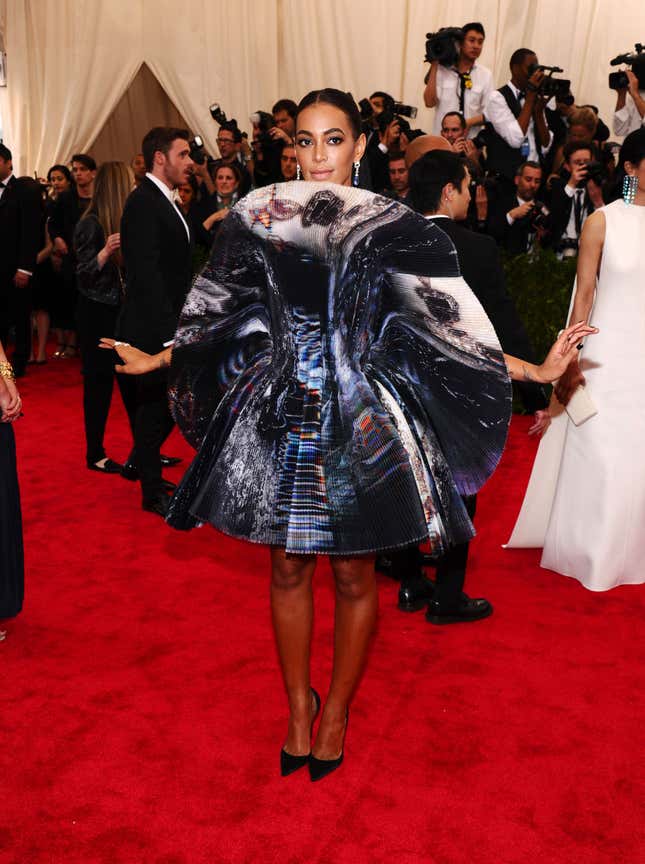 Really I have no idea if that was her intention, but that's sort of what this looks like, no? I love Solange, and think she is beautiful and fashion-forward every time I see her. I just haven't caught up with this Giles dress yet, and don't understand how she'll dance in it.
Show us some more angles please, Solange.
Statuesque bronze abounded
Fan Bingbing, Anne Hathaway, Feifei Sun, and Kate Hudson all went for gold-ish gowns that worked to varying degrees. I wonder if Hathaway's hood ever came off.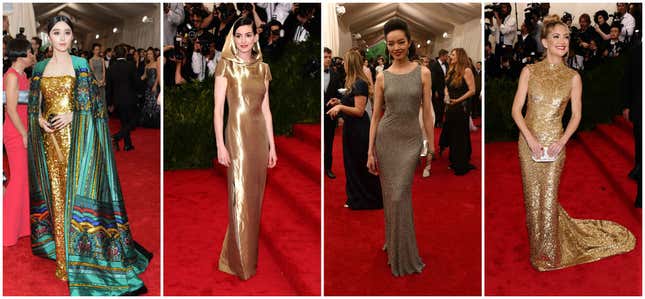 Anna Wintour's dress had wonderfully weird sleeves, but no one looked happier than Grace Coddington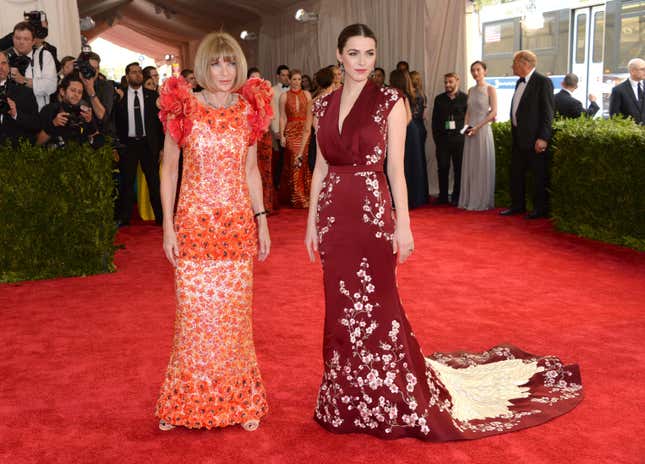 The Vogue editor-in-chief's fashion choices are tasteful and predictable most of the time, so it's nice to see her wear something just the tiniest bit wacky here, even if it is Chanel Couture.
Just one thing: the flowers on Wintour's dress resemble poppies, a symbol of China's suffering during the Opium Wars. (Part of the Met's exhibit is devoted to Yves Saint Laurent's similarly problematic "Opium" fragrance from the 1970s.) It seems unlikely Wintour would be unaware of the symbolism; hopefully she simply never attributed a species to her gown's sequined flowers—Chanel usually references camellias—and this was the rarest of honest missteps. (Unlike Poppy Delevingne, who maybe gets a pass because of her name?)
In any case, the Vogue editor's outfit we most envied at the evening's end belonged to Grace Coddington, the magazine's creative director. She wore pajamas.