Aliko Dangote may want to buy English soccer team Arsenal, but he hasn't forgotten his main money-maker or the continent where he made that money.
Africa's richest man, with a net worth of $15.7 billion according to Forbes, made a large part of his fortune producing cement. And now his company Dangote Cement is looking to further expand its operations across the continent. According to Reuters, the firm plans to build a $500 million cement plant in Tanzania, East Africa's second largest economy.
The plan is to push production to 68 million tons a year by 2017 from last year's estimate of 46 million tons. This is all part of a $3 billion strategy to entrench Dangote's footprint all across Africa.
Investing in Africa is probably Dangote's most important business philosophy. Here he is from 2010:
 "In Africa you can reap about 30 percent in returns on investment. "People do not believe you when you tell them this. There are tremendous opportunities in Africa.  The only perception people have is that it is difficult to do business in Africa. But it is not true. There are challenges like lack of adequate power supply which did not deter us from running our business. There are challenges when doing business in Africa. But profitability in the area compensates for the challenges."
Africa's economies are growing at a rapid rate, with infrastructure investments a key driver of this growth especially in transport, energy and power not to mention oil and gas exploration, increasing demand for cement. This makes Dangote's decision to expand into other African countries a timely one.
The news highlights another trend gaining traction in Africa. While foreign direct investment dipped in 2014, intra-trade investments in Africa by African companies reached an all time high in 2013.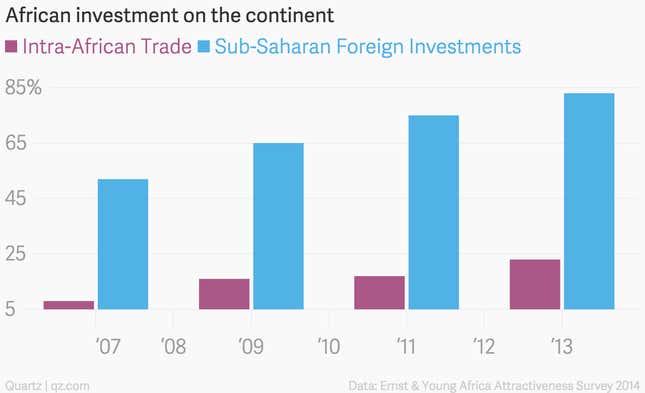 Analysts suggest that the need for improved regional value chains and deepening regional integration are key factors in the tripling of intra-African investments over the last decade. This is something that Mr. Dangote is looking to increasingly leverage. Along with Tanzania, the firm has operations in 9 other African nations, including Kenya, Congo, Mozambique and Zambia.