Five years after he was turned down by Arsenal, Nigerian billionaire industrialist Aliko Dangote said he still wants to buy the storied English Premier League soccer team—for the right price.
Dangote—who lost some $10 billion in net worth in 2014 due to a crash in the Nigerian stock market and value of the Nigerian naira but is still Africa's richest person—told Bloomberg that he is interested in taking control of the club, of which he is a big fan.
"I still hope, one day at the right price, that I'll buy the team," he said. "I might buy it, not at a ridiculous price but a price that the owners won't want to resist. I know my strategy."
The north London club is currently controlled by US billionaire Stan Kroenke, who also owns other sports teams including the NBA's Denver Nuggets and the NFL's St Louis Rams. Uzbek billionaire Alisher Usmanov also owns just under a third of Arsenal.
It is not clear that Kroenke or any of the minority shareholders have put any stakes up for sale at this stage. If Dangote did make a bid it is likely he would be going up against Usmanov, who is worth some $15 billion and has long coveted full control of the club.
Arsenal has the longest serving manager in the league in Arsene Wenger, who brought many trophies early in his reign but has faced questions about the team's inability to win the Premier League since 2004. Of Wenger, Dangote told Bloomberg: "He needs to change his style a bit. They need new direction."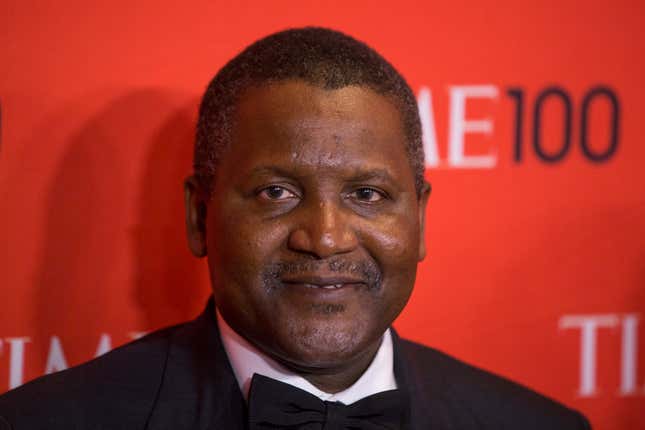 English soccer clubs in its top flight league have rocketed in value in recent years, buoyed by rising domestic and international TV rights that have pumped huge wads of cash into the 20 teams in the league—especially top teams like Arsenal. According to Bloomberg, Arsenal Holdings Plc, which trades on the UK's ICAP Securities & Derivatives Exchange, is valued at 988 million pounds ($1.49 billion).
English soccer has risen rapidly in popularity globally, nowhere more so than in African countries, partly driven by an increasing number of African-born stars playing for the top teams, players such as Manchester City's Yaya Toure and Chelsea's Didier Drogba.
If Dangote were to buy Arsenal, he would be the first African to own a Premier League team.