The English Premier League has struck a new £5.14 billion ($7.84 billion), three-year deal for broadcast rights in the UK. That's a 71% increase on what the last rights deal in the UK achieved in 2011. Ahead of the announcement, media reports suggested a figure closer to £4.4 billion was more likely. So it's a pretty stunning result.
The increase reflects a) an insatiable appetite among British consumers for live soccer (or football as its known in most of the world) and b) competitive tension between Rupert Murdoch's Sky, the dominant pay-TV operator in the country, and BT Sport, a newer competitor from the main telecom/internet service provider, BT Group (Sky secured five of the seven packages being auctioned, BT the other two).
The Premier League is already the most valuable soccer competition on the planet, according to analysis by Credit Suisse last year. It might not be long before it moves further up this table, ahead of the big three American professional sports. Global rights deals, including in the US, are expected to be decided in the next few months (paywall).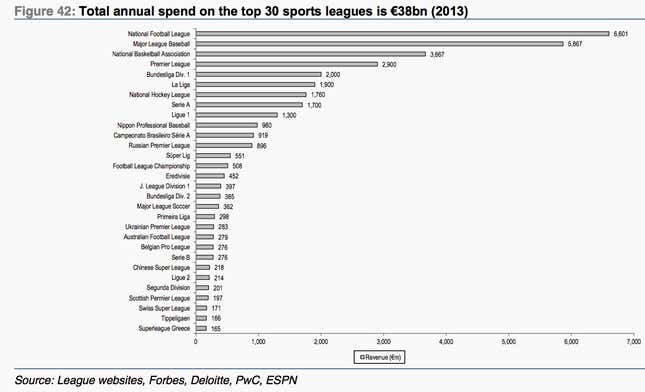 There are a number of reasons behind the league's success. One is the perception that it is more competitive than others in Europe, such as Spain's La Liga, Italy's Serie A and Germany's Bundesliga, which are typically dominated by one or two teams.
Broadcast rights are distributed evenly in the Premiership, unlike in La Liga where the giants Real Madrid and Barcelona negotiate their own rights separately. The EPL also has greater international appeal than its rivals on the continent, particularly in fast growing Asian markets, where support is fanatical, and increasingly, the US, where NBC has been airing matches most weekends on broadcast TV.
That doesn't explain why the Premier League's domestic TV rights easily outstrip those in bigger and equally soccer crazy economies like Germany, though. But there are signs of the beginnings of a backlash. Pressure is building among fan groups for the windfall to be used to cut exorbitant ticket prices for games. Analysis by the Guardian last year found that average ticket prices in the EPL are much higher than other leagues in Europe.
Perhaps more likely is that the funds will be used to fuel further inflation in transfer fees and player salaries, as the arms race for talent continues.