The past decade has been economically tumultuous for most of the US. But some areas of the country have managed to thrive. Take the oil patch, for instance. Shale-rich North Dakota, Kentucky, and Texas enjoyed a surplus of jobs (at least until oil prices dropped sharply last year). In Silicon Valley, and in smaller tech scenes such as Seattle and Boston, booming startup communities have supercharged salaries, rents, and company valuations.
And then, of course, there's Klickitat County, Washington.
Never heard of it?
Klickitat County—population just under 21,000—lies 70 miles (110 km) east of Portland in the Columbia River Gorge, an 80-mile canyon that carves the border between Washington and Oregon. And it is the unlikely epicenter of a booming American industry: unmanned aerial vehicles, otherwise known as UAVs, or drones.
Between 2010 and 2013, median incomes in Klickitat County soared 23%, even as the median income for the country as a whole was up a scant 2%, according to US Census Bureau data. Only five counties in the country had incomes rise more, all of them in oil regions.
"There really wasn't much of a recession here in terms of job impacts, because the UAV industry was really just starting to take off when the recession was hitting," says Dallas Fridley, an economist with the State of Oregon who focuses on the Gorge.
The tech world is replete with "industries of the future" where economic benefits are a distant dream. But the drone industry, while small, is delivering real jobs with real salaries. While the US Bureau of Labor Statistics doesn't collect hard numbers on jobs related to UAVs, the Teal Group, a market analysis company that focuses on aerospace and defense, predicted in a 2014 report that global UAV spending will increase from $6.4 billion in 2014 to $11.5 billion by 2023.
Nowhere in the US is the impact being felt more than in the Columbia River Gorge. The drone industry provides 1,000 or so jobs spread across 10 or 15 companies. The largest of these is the Insitu Group, a Boeing subsidiary that manufacturers small, lightweight drones, mostly for the military, and is the region's largest employer.
Compared to the whole Washington state aerospace sector, which boasts 1,350 companies and 8,500 aerospace engineers, that isn't much. But in an area as rural as the Gorge, where the five-county surrounding region has around total 80,000 inhabitants, it amounts to a genuine boom.
A 2013 report by the Columbia River Gorge Technology Alliance (GTA), a professional organization that supports the high-tech industry in the region, found that the average annual salary in the UAV industry was $68,000. Tourism and agriculture, still two of the region's largest industries, paid average salaries of just $17,000 and $24,000 respectively. Across the Columbia River from Klickitat County is Hood River County, Oregon, population just over 22,000, where the number of professional and business jobs—a sector which includes engineering—increased 31% from 2008 to 2014. Average annual wages in that sector increased 49%, from $41,000 to $61,000, over the same period, Fridley says.
From pears to drones
For years, the Gorge wasn't much besides a picturesque agriculture hub. It's one of the world's most plentiful pear-farming regions, and also grows cherries and apples and has a small lumber industry. Windsurfers discovered it in the 1980s, attracted by the natural wind tunnel that funnels air through the canyon at 35 mph (56 kph). Mountain bikers, hikers, and skiers followed, and the region became known, at least throughout the northwest, as a mecca for outdoors enthusiasts.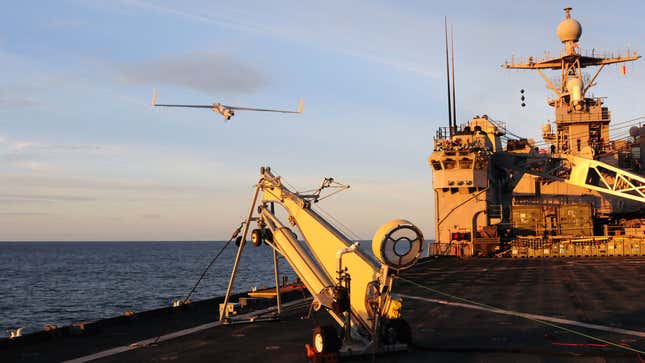 The region's natural beauty was part of what struck Andy von Flotow, who was an aeronautics professor at MIT when he visited the Gorge for a weekend in the spring of 1992. Immediately, he was smitten. He bought a farmhouse with an orchard that weekend, and a few months later founded Hood Technology, an aviation-focused engineering company which has since worked on a variety of unmanned aircraft projects.
A couple years later von Flotow convinced his old Stanford classmate, Tad McGeer, to join him in the Gorge. McGeer, a former robotics professor at Simon Fraser University in British Columbia, was at the time developing small robotic planes out of a Silicon Valley garage, a venture that would officially become the Insitu Group.
"I wanted to to be in a rural area both to live and to fly," says McGeer, a licensed pilot, who left Insitu in 2005 and has since founded Aerovel, another drone manufacturer, with von Flotow.
Purchased by Boeing in 2008 for a reported $400 million, Insitu is a giant of the drone world. Its 2013 revenue was roughly $400 million, according to then-CEO Steve Morrow, and it employs some 800 people, mostly in 12 regional offices around the Gorge, including a 128,000 square-foot (12,000 square-meter) production facility finished last year. Its flagship product is the ScanEagle, a 10-foot plane that can fly for 20 hours straight and take off and land without an airstrip. Since 2008, Insitu has been awarded at least 14 US military contracts worth over $6.5 million each, including a 2013 contract with the US Navy worth $300 million.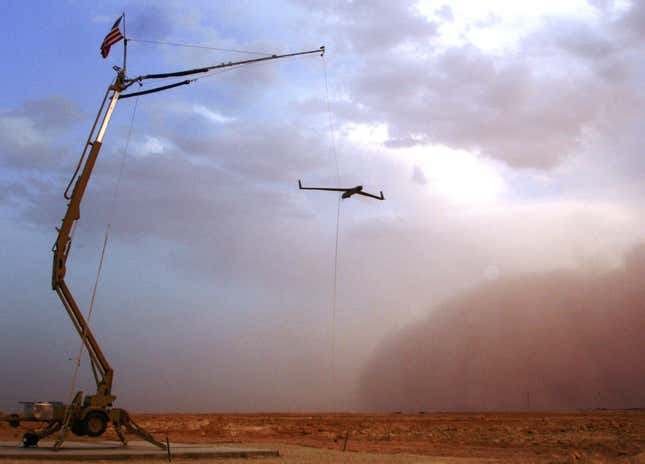 As the big fish in the Gorge's pond, Insitu's presence has anchored UAV tech in the region, inspiring spinoffs, upstarts, and collaborators. Many of these new players came from within Insitu, such as Cloud Cap Technology, which builds autopilot software and mounted imaging systems from its headquarters in Hood River, Oregon.
"There was a fairly healthy encouragement of folks in the community at Insitu or otherwise to create small businesses that helped supply Insitu," says Greg Davis, a former Insitu employee who now runs business development for Cloud Cap.
Effectively, in Insitu, the Gorge had stumbled on the holy grail of local economics. Economists call it an industrial agglomeration. You may know it as an industry cluster. Think London and finance; Los Angeles and movies; San Francisco and tech; central Mexico and cars. Industry clusters develop because they deliver benefits to producers in the form of the lower costs that result from specialization. There is also evidence that they can boost local wages. And they're known to create technology and knowledge "spillovers," resulting in innovations that can keep local companies ahead of the industrial pack.
One such spillover occurred after Mike Graham and Wes Lapp started RealCarbon in 1988. They were a couple of guys right out of college who wanted to build a better windsurfing board. In 1991, they moved to The Gorge to be close to the scene, and pivoted to focus on carbon-fiber windsurfing booms.
Then, eight years later, "One of the founders of Cloud Cap walked in and said, 'Hey, I heard you make lightweight carbon fiber stuff. Can you make some boxes for an avionics module for planes?'" Graham says. "And the rest is history."
Nowadays, it's tough to find folks around the Gorge who aren't bullish on the drone industry. In particular, there's a lot of excitement about expansion beyond military contracts to the private sector. Many expect demand to explode as the technology matures, and the US Federal Aviation Administration and its international equivalents loosen policies on unmanned aircraft. "Everyone's excited for when civilian airspace opens," says Jessica Metta, executive director of the GTA.
"We're poised for growth. All the companies around are simply waiting for the cycle to start," says Graham. "And we're well-positioned. RealCarbon's been making UAV products since 1999, and that's quite a long time in this industry, which is pretty nascent at this point in time. So we've got a pretty well-established head start."