Last month, Norway registered its 50,000th electric car, hitting the milestone three years before expected and triggering a new debate about incentives.
Norway has some of the world's most generous incentives for electric vehicle buyers. Electric cars are exempt from value added tax (VAT) and purchase tax, which on average in Norway add 50% to the cost of a vehicle. They are also exempt from road tolls, tunnel-use charges, and ferry charges. And they get free parking, free charging, and the freedom to use bus lanes.
It seems silly to not buy an electric car. So Norwegians have. In droves. As a result, the incentives are now being rolled back.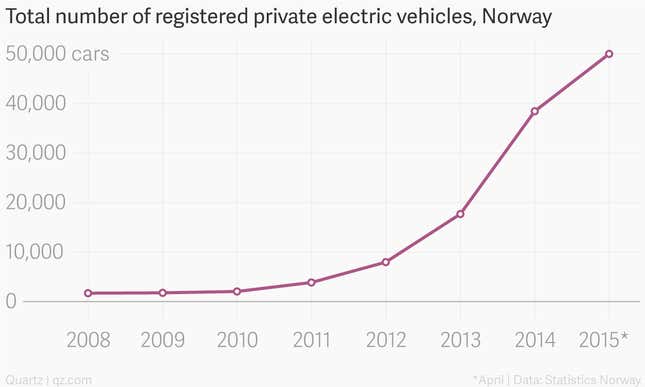 This week, all the major political parties in Norway met and agreed that electric cars will no longer get as easy a ride, according to AFP. Owners will have to pay half of the road tax from 2018 and all of it from 2020. VAT exemptions will also be replaced by a subsidy, which will probably be revoked over time. And local authorities can now decide whether to offer free parking, exemption from tolls, and the use of bus lanes.
It is the last of these that has really incited passions in Norway. In 2013, barely 18,000 electric vehicles roamed the streets of Norway and already there was grousing. One of the biggest perks of owning an electric car on Norway—permission to drive in the bus lane—was under threat after reports  of overcrowding. During rush hour on Dec. 3, 2013, electric cars accounted for three out of every four vehicles in a bus lane between a rich suburb of Oslo and the city.