Canceling your cable TV subscription is a notoriously laborious process. You normally have to contact a customer service representative over the phone or via live chat, and they'll do whatever they can to keep you as a customer.
In a high-profile incident last year, tech journalist Ryan Block tried canceling his Comcast subscription, but was met by a jittery customer service representative who really wanted to know why he was trying to terminate his service. (Comcast later apologized for its treatment of Block and says it's working on improvements to customer service.)
For online video subscription services like Netflix and HBO Now, the painful process of canceling cable is an opportunity to distinguish themselves as friendlier services. Some even make a point of how easy they are to cancel. So Quartz took a look at four of the leading streaming services in the US to see what it takes to cut ties with them.
Netflix
Verdict: Very, very easy
Netflix has long touted how painless its cancellation process is. "We are a relief from the complexity and frustration that embody most MVPD relationships with their customers," the company says. "There is no better example of this than our no-hassle online cancellation.  Members can leave when they want and come back when they want."
It's true. Canceling your Netflix subscription is about as easy as it gets. Just go into your account settings and click "Cancel Membership." You'll be prompted with this short message:

That said, it looks like you can only cancel on Netflix's website. There doesn't appear to be an option to cancel (let alone access your account settings) within the Netflix app for iPhone and other devices.
HBO Now
Verdict: Not difficult, but convoluted
HBO's new standalone streaming service requires you to subscribe through another company, which means the process of signing up and canceling could be a little more straightforward. Currently, you can only subscribe through Apple or Cablevision's Optimum internet service, but the options are likely to expand in the near future.
If you signed up through Optimum, HBO advises you contact Cablevision directly to cancel your service. If you subscribed through Apple, though, you have to cancel via the iTunes store. Go into your account settings and switch off the automatic renewal option, which is usually set to on. On desktop, that looks like this: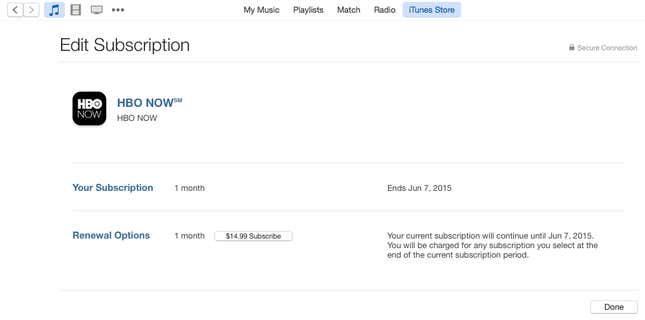 To HBO's credit, it has been very upfront about how to manage your HBO Now subscription, and that it's not involved in the billing process whatsoever. But the iTunes store can be a bit messy to navigate, and it's certainly not as easy as the one click it takes to cancel Netflix. Then again, HBO Now is a brand new service, so perhaps this will change over time.
Amazon Prime Instant Video
Verdict: Easy peasy lemon squeezy, but be careful
Instant Video is the Netflix-like on-demand service that comes with an Amazon Prime subscription. If you want to cancel Instant Video, you have to cancel your Prime account. Similar to the others, just go into your account settings, click "Manage Prime Membership," and then click "End Membership." This is what you'll see: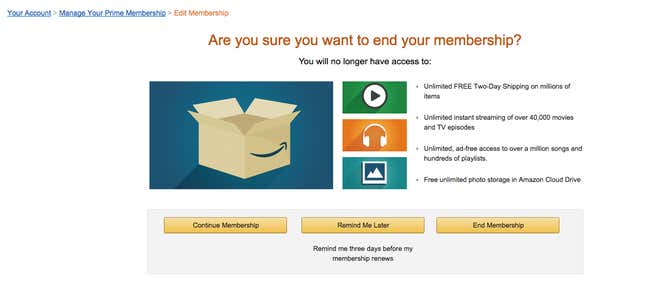 The "remind me later" option can be particularly useful if you're having second thoughts, especially because Prime subscriptions are yearly (unlike the others, which are all monthly). It's easy to forget to cancel your subscription when it lasts for an entire year, and if you miss the deadline, there goes another $99.
For what it's worth, my Prime membership was recently renewed, and Amazon did not send me any emails warning me that renewal was imminent. The company did send me lots and lots of promotional deals, though!
Hulu
Verdict: Easy, but watch this video first! And enjoy this free month of service!
Hulu is going all-in on original content, hoping to compete with Netflix for on-demand superiority in the US. Its $7.99 subscription service, called Hulu Plus, is a dollar cheaper than Netflix, but has about 30 million fewer subscribers.
Perhaps that's why Hulu is willing to give you a month or two of Plus on the house to prevent you from canceling. The first time you try to leave Hulu, you'll likely get an offer to stick around a bit longer for free.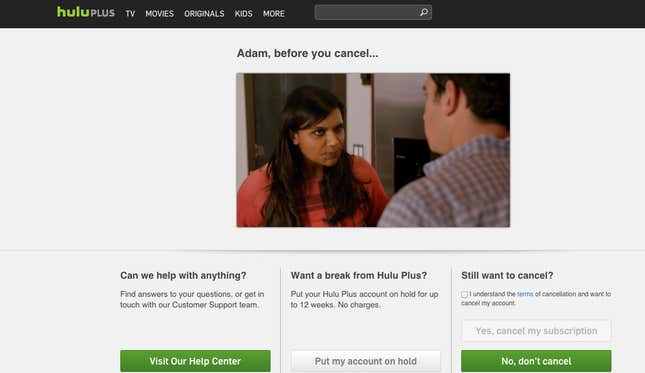 To cancel Hulu Plus, go into your subscription settings and click "Cancel Subscription." You'll then be shown a video—a supercut of characters from Hulu shows—asking you not to leave. You don't actually have to watch the video to cancel your service, so it's more endearing than annoying.
Conclusion
They're all pretty easy! Some more than others, but none of these services will make you want to claw your eyes out trying to cancel. Because HBO doesn't currently handle its own billing, HBO Now is the only one of the four likely to cause some confusion. But even so, it's still not difficult to cancel. Advantage: internet.