After 15 years, one of the biggest shows in the history of American television is closing up shop. Fox announced today at its annual upfront presentation that American Idol will end after its 15th season in 2016 (paywall), after which it will either descend into television heaven, or be banished to the depths of TV hell, depending on your opinion of the influential singing program.
Launched in 2002, based on the British singing show Pop Idol, American Idol instantly became a phenomenon. It turned many of its winners (Kelly Clarkson, Carrie Underwood, Phillip Phillips) and some of its non-winners (Chris Daughtry, Katharine McPhee, Jennifer Hudson) into global superstars. It also revived the careers of judges Paula Abdul and Randy Jackson, turned the fan favorite Simon Cowell, an abrasive, sardonic Brit who had worked on Pop Idol, into a celebrity in the US, and transformed host Ryan Seacrest into an entertainment icon.
For much of its 15-year existence, it was by far the most watched series on television in the US, averaging 30 million viewers for multiple seasons during the middle of its run. (By comparison, the second most popular show in the US in 2006 was Dancing with the Stars, which averaged 20 million viewers to Idol's 31 million.)
But since about 2008, those ratings have been in steady decline. Not only has the concept become stale and uninspired, but it also now faces stiff competition from other reality shows, like The Voice on NBC. One could argue that the Idol beast was defeated by the very knock-offs that it spawned.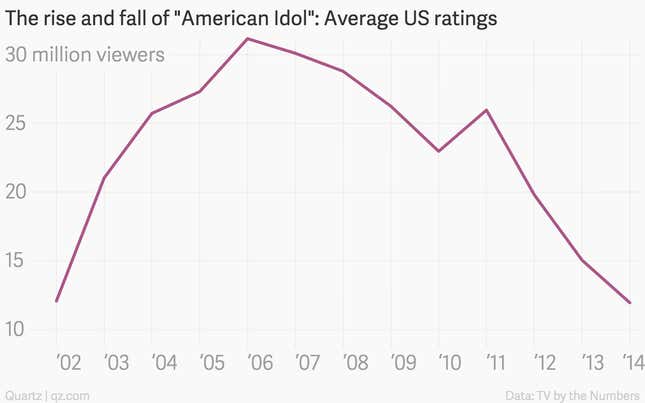 It became clear around 2010 or so—when the third "white guy with a guitar" won in a row, that the show might not last much longer. The series experimented with changing the format, added high-profile guest mentors like Beyoncé and Lady Gaga, and built a revolving door of celebrity judges (Abdul left in 2010, Cowell in 2011, and Jackson—finally—in 2014), but nothing seemed to work. Idol was dying.
Current judges Jennifer Lopez, Keith Urban, and Harry Connick Jr. will return for the final season next year. It's possible that the show will be revived in some way a few years down the line. It made too much money for Fox for the network to forget it completely. Even as ratings declined, it was still among the most watched shows in the US, especially among people aged 18-49, the most lucrative demographic to advertisers.
But don't bet on it: Ratings for reality shows have declined across the board. There just isn't much of an appetite for yet another singing competition, and with the rise of high-quality television, there may never be again.